Why in News?
• Union Defence Minister of India, Rajnath Singh on Tuesday announced a 'historic and transformative' Agnipath scheme that would allow the country's youth to join the armed forces. The Agnipath project was announced after the Cabinet Committee on Security decided to implement the project as part of a plan to recruit armed forces.
What is Agnipath Scheme?
• Under the Agnipath scheme, the Indian Armed Forces will give young men the experience of military life and the opportunity to serve the nation for a short and long time as firefighters.
How to Join under the Agnipath scheme
• All three services will be enrolled through an online centralized system. Specialized assemblies and campus interviews will be conducted at recognized technical institutes such as the Industrial Training Institute and the National Skills Qualification Framework.
• Initially, entry under this scheme will be for 4 years. In these 4 years, the Armed Forces will train the recruits in the required skills. A total of 46,000 troops will be recruited each year.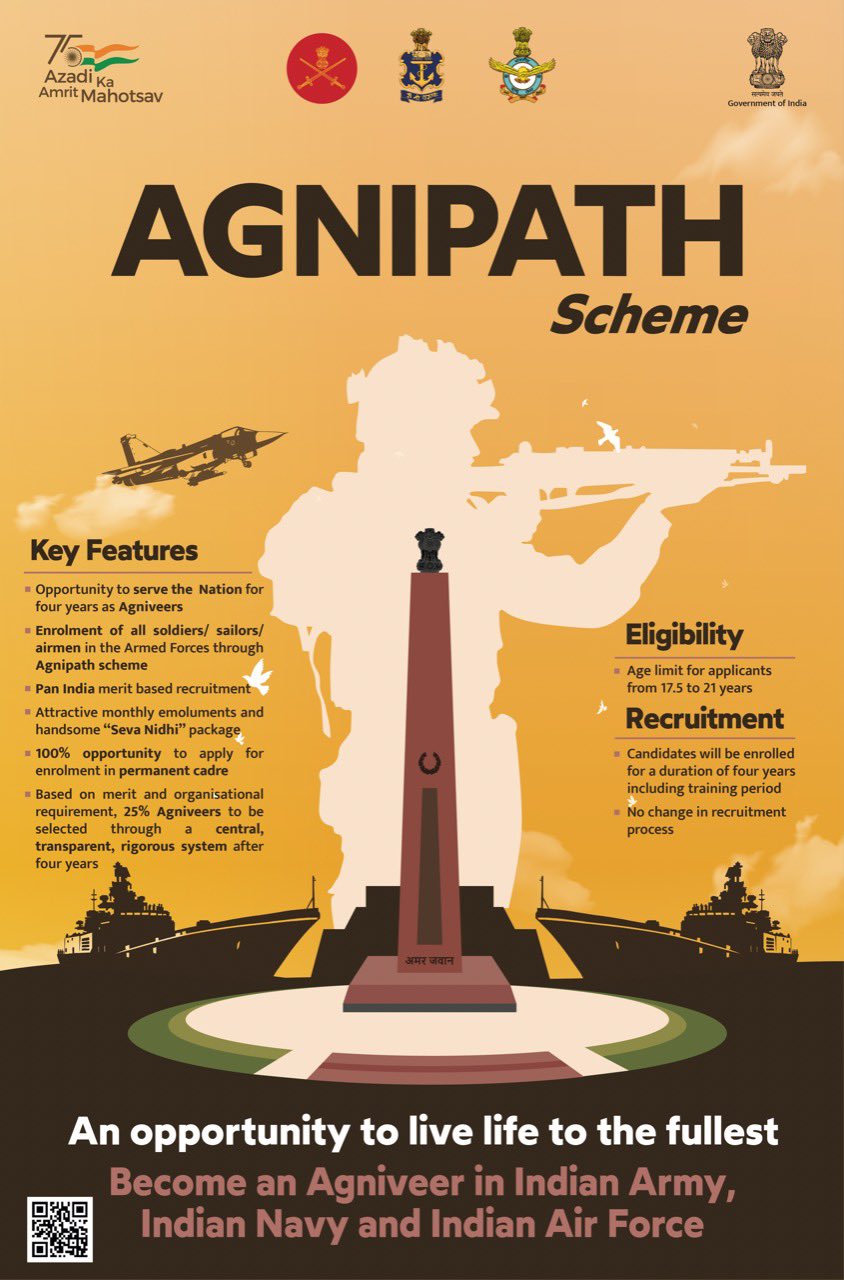 • Of the 46,000 troops, about 25% will be retained for an additional 15-year term for permanent commission. Others will be allowed to leave and a service fund will be provided – a one-time corpus of Rs. 11.71 lakh plus interest. This amount will be tax-free and the person can use it to further their dreams.
• Persons selected for enlistment in the Armed Forces as regular cadres will be required to serve for a minimum period of 15 years of further employment and will be governed by the existing conditions of service of Junior Commissioned Officers / other posts in the Indian Army. And their equivalents in the Indian Navy and Indian Air Force and non-combatants enlisted in the Indian Air Force, as amended from time to time.
Age limit
• Enrollment will be based on 'All India All Class' basis and the eligible age will be between 17.5 to 21 years.
Educational Qualification
Category
Education
Age
Soldier General Duty
• SSLC/Matric with 45% marks in aggregate.
• No%required if higher qualification.
17.5 – 21 Years
Soldier Technical
• 10+2/Intermediate exampassed in Science with Physics, Chemistry, Maths and English. Now eight age for higher qualification.
17.5 – 21 Years
SoldierClerk / StoreKeeper Technical
• 10+2/Intermediate exam passed in any stream(Arts,Commerce,Science)with 50% marks in aggregate and min40% in each subject. Weight age for higher qualification.
17.5 – 21 Years
Soldier Nursing Assistant
• 10+2/Intermediate exam passed in Science with Physics,Chemistry,Biologyand English with min 50% mark sin aggregate and min40% in each subject. Now eight age for higher qualification.
17.5 – 21 Years
Soldier Trades man

(i)General Duties
(ii)Specified Duties
Non Matric
17.5 – 21 Years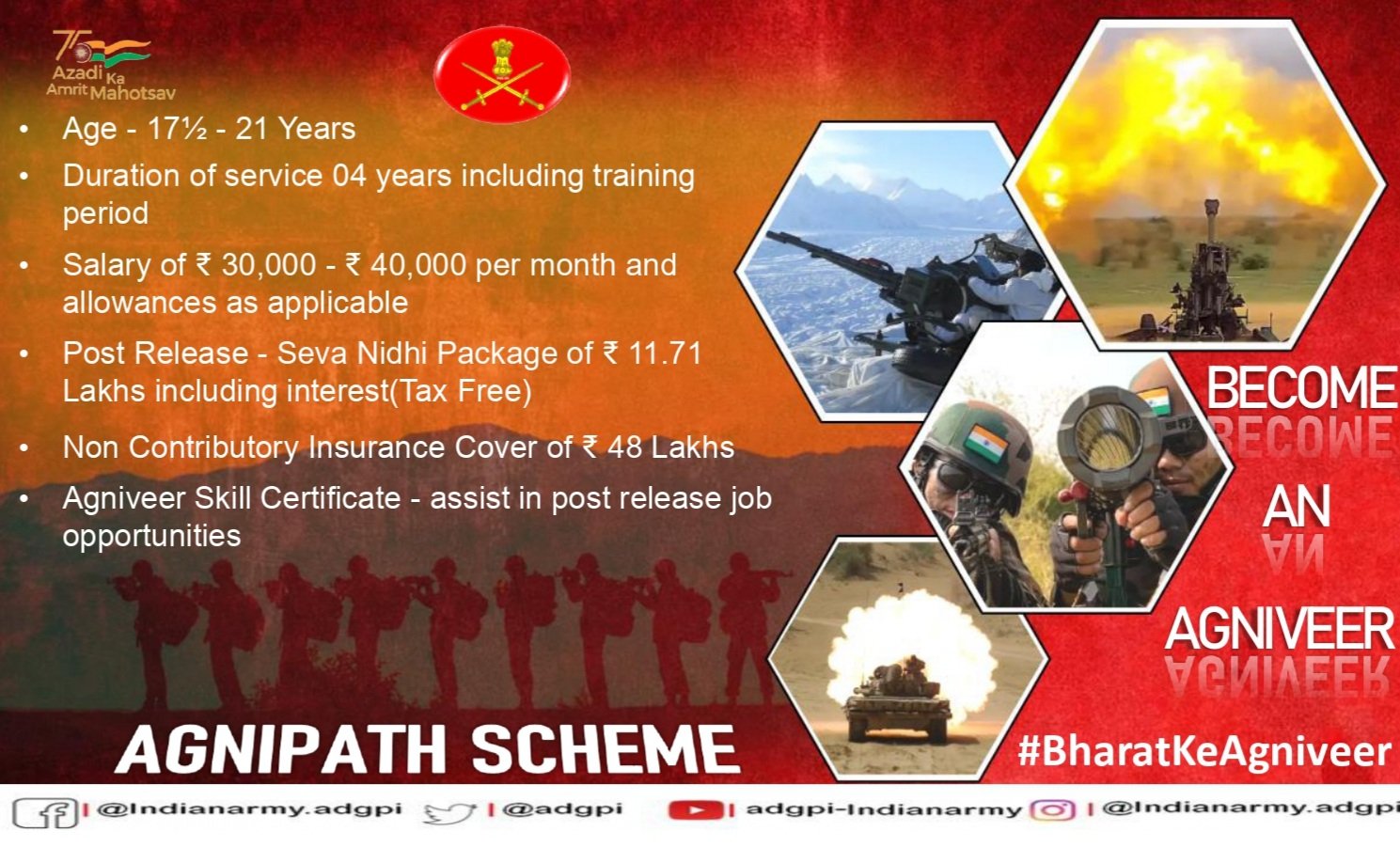 Why is Agnipath Scheme being introduced?
• The Agneepath Scheme will be launched to reduce the cost of salaries and pension bills of the three services of the Armed Forces.
• The Agneepath scheme is expected to benefit the Indian Army financially and alleviate the shortage of personnel, including officers.
• In addition to reducing costs, it will also create employment opportunities for Indian youth.
Note :
• Currently, the Indian Army recruits young people under the Short Service Commission for an initial term of 10 years that can be extended up to 14 years.
• The defense budget for 2022-23 is Rs 5,25,166 crore, including Rs 1,19,696 crore for defense pensions. The allocation for revenue expenditure was Rs 2,33,000 crore.
Also, see
List of Month-wise State Government Schemes and Campaigns 2022
Flagship Schemes of Government of India