Introducing a groundbreaking leap in sustainable transportation, India proudly unveils its inaugural hydrogen bus, a revolutionary vehicle powered by cutting-edge hydrogen fuel cell technology. This remarkable feat marks a significant stride towards a greener future, as the nation's commitment to eco-friendly solutions gains momentum.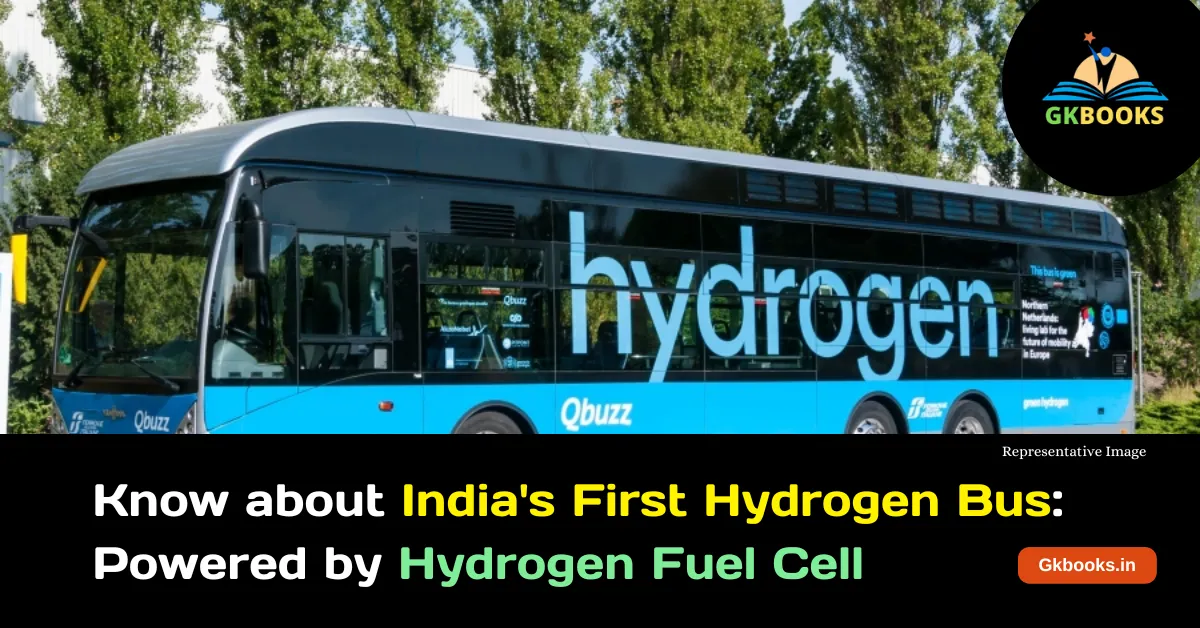 Know the details of this pioneering initiative, exploring the mechanics behind the hydrogen fuel cell and its potential to reshape the landscape of public transport. From the innovative propulsion system to its environmental impact, discover how this hydrogen-powered bus is propelling India towards a more sustainable and cleaner mobility era.
Key Points About India's First Hydrogen Bus
▪ A groundbreaking hydrogen fuel cell bus service is commencing in Leh, Ladakh, marking India's first-ever commercial trial of this advanced technology at high altitudes.
NTPC, recognized as India's largest power producer, spearheads the initiative by delivering five hydrogen fuel cell buses to facilitate intra-city transit in Leh.
Read Also:  India's First Hydrogen-Powered Train with Important Facts
The implementation contains a refueling station and a 1.7 MW captive solar facility, ingeniously producing green hydrogen for the bus fleet's fuel requirements.
The prominent vehicle manufacturer, Ashok Leyland, is the supplier of these buses, valuing each at INR 2.5 crore, following a global expression of interest.
Travel costs aboard the hydrogen buses will mirror those of conventional diesel buses, ensuring affordability for passengers.
Read Also:  Indian Railways to Introduce New Push-Pull Train 
The project harmonizes with Prime Minister Narendra Modi's vision of achieving carbon neutrality for the Ladakh region.
A distinguishing aspect of this endeavor is subjecting the buses to testing at altitudes surpassing 11,500 feet, characterized by lower oxygen levels and a rarified atmosphere.
The true challenge emerges during Leh's harsh winters, characterized by temperatures plummeting far below freezing point.
Funding for the project originates from NTPC's CSR budget, underscoring the company's commitment to pioneering technologies.
Read Also: India's first 3D-printed Post Office
Other Eco-friendly Buses
In addition to Hydrogen-Powered buses, there are also other eco-friendly buses in India, such as:
Biogas buses: These buses are powered by biogas, which is a renewable energy source that is produced from organic waste.
A company based in Kolkata has ingeniously developed a bus that operates using biogas derived from cow dung.
Scheduled for its inaugural journey, this pioneering bus will traverse the route between Ultadanga in the northern part and Garia in the southern part of Kolkata.
At a mere cost of Re 1 for the entire 17.5 km route, this bus is poised to become the most economical transportation option available to passengers across the nation.
CNG buses: These buses are powered by compressed natural gas, which is a cleaner-burning fuel than diesel.
Hybrid buses: These buses combine electric and diesel power to improve fuel efficiency.
More India's First Initiatives in News, You May Like