Mangalore Refinery and Petrochemicals Limited (MRPL), a subsidiary of Oil and Natural Gas Corporation (ONGC), has achieved the milestone of becoming India's largest single-location PSU refinery. This achievement portrays the highest throughput ever processed by a single-location PSU refinery in the history of India's petroleum refining.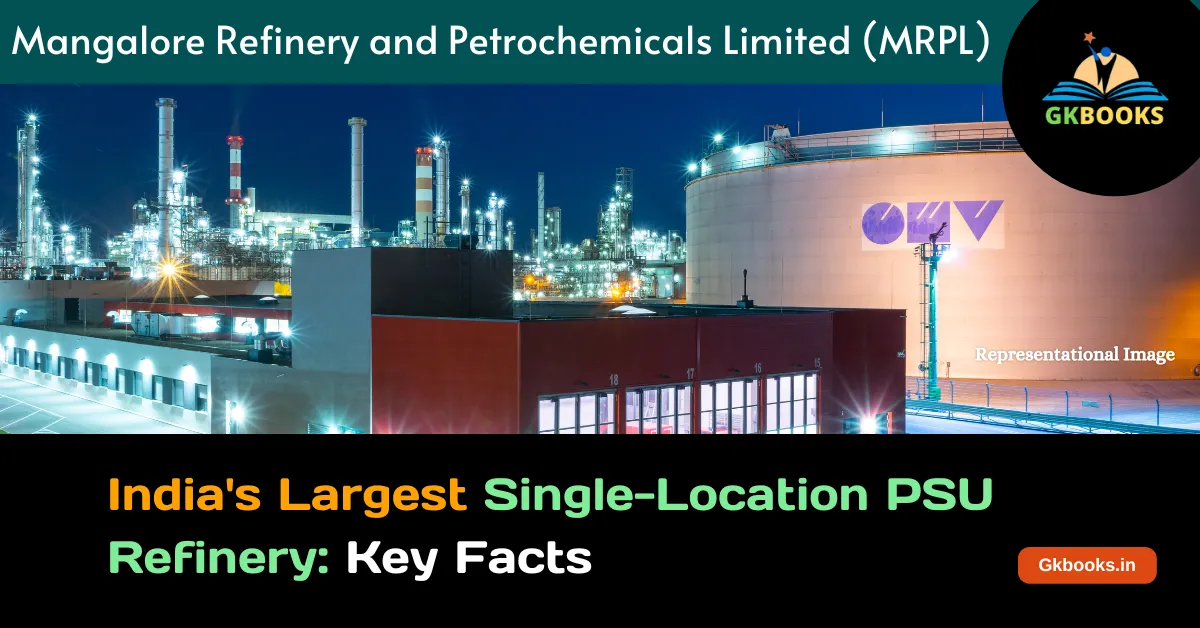 MRPL Achieves Milestone as India's Largest Single-Location PSU Refinery
Milestone Achievement in 2022-23
Mangalore Refinery and Petrochemicals Limited (MRPL), located in Mangaluru, Dakshina Kannada, Karnataka, achieved a momentous feat during the fiscal year 2022-23 by becoming India's largest PSU refinery at a single location.
As a classified Miniratna Central public sector enterprise (CPSE), MRPL plays a pivotal role within the petroleum industry.
Read Also: Southeast Asia's Largest Desalination Plant Comes up in Tamil Nadu
Record-Breaking Throughput
In the 2022-23 fiscal year, MRPL accomplished an exceptional milestone by processing an unprecedented 17.14 million tonnes of crude oil.
This extraordinary achievement not only solidifies MRPL's leadership position in the sector but also sets a historic record as the highest-ever throughput managed by a single-location PSU refinery in the annals of India's petroleum refining history.
Journey and Expansion
MRPL's journey began in 1988 as a joint venture (JV) refinery, with promotion by M/s Hindustan Petroleum Corporation Limited (HPCL).
Over time, MRPL underwent two phases of expansion, elevating its refining capacity to an impressive 15 Million Metric Tonnes Per Annum (MMTPA).
Complexity and Capability: Distinctive Nelson Complexity Index (NCI)
Standing out in its configuration, MRPL boasts a notable Nelson Complexity Index (NCI) of 11.3.
This index, ranging from 1 to 20, gauges a refinery's capacity to yield diverse petroleum products.
MRPL's elevated NCI underscores its capability to produce an array of valuable products, further highlighting its operational prowess.
Petrochemical Potential: Commitment to Efficiency and Innovation
MRPL's operations also encompass significant petrochemical (Petchem) Intensity, currently at 9.5%.
This metric reflects the proportion of crude oil directly converted into essential chemicals used in manufacturing plastics and vital materials.
MRPL aims to raise its Petchem Intensity to 15% in the medium term, underlining its dedication to efficiency and innovation.
Integral Role in India's Energy Landscape
As a subsidiary of Oil and Natural Gas Corporation Limited (ONGC) operating under the Ministry of Petroleum & Natural Gas (MoPNG), MRPL's accomplishments underscore the potential within India's public sector enterprises.
Its commitment to refining capacity enhancement, complexity indices, and petrochemical advancements highlights MRPL's pivotal role in driving India's petroleum and petrochemical landscape forward.
Understanding the Nelson Complexity Index (NCI)
The Nelson Complexity Index (NCI) metric signifies the proportion of crude oil that directly transforms into chemicals, essential for producing plastics and various materials.
With the capability to process over 250 distinct types of crude from around the world, MRPL handles significant crudes from diverse regions including the Middle East, South Asia, Europe, Russia, Africa, South America, and the United States.
Versatility in Petrochemical Production
MRPL's proficiency extends to a wide range of petroleum products, such as:
Naphtha
LPG
Motor spirit
High-speed diesel
Kerosene
Aviation turbine fuel
Sulphur
Xylene
Bitumen
Alongside pet coke
Polypropylene.
Recent efforts have seen MRPL proactively enhancing its petrochemical portfolio.
Advanced Facilities and Aspirations
At the core of these advancements lies the 440 KTA Novolen gas-phase polypropylene plant, capable of producing an extensive array of homopolymer grades.
Within its aromatic complex, MRPL's capabilities include the production of 0.905 MMTPA of para xylene and 0.273 MMTPA of benzene.
Integration within the Mangalore Special Economic Zone (MSEZ) enhances the synergy between the aromatic complex and MRPL's operations.
Expanding into the Retail Sector
MRPL's aspirations extend to the retail sector, with strategic initiatives underway. Plans are in place to expand the esteemed RO brand, HiQ, to 1000 locations in South India.
MRPL's Managing Director, Sanjay Varma, emphasizes the company's triumphant resurgence following its effective management of challenges posed by the Covid pandemic.
---