Check out the full list of India's Rank in Renewable Energy Production. India has surpassed all expectations by achieving a remarkable feat – exceeding its ambitious target of 500 gigawatts for renewable energy capacity by the year 2030. This achievement stands as a testament to India's commitment to sustainable energy and paves the way for a cleaner and greener future.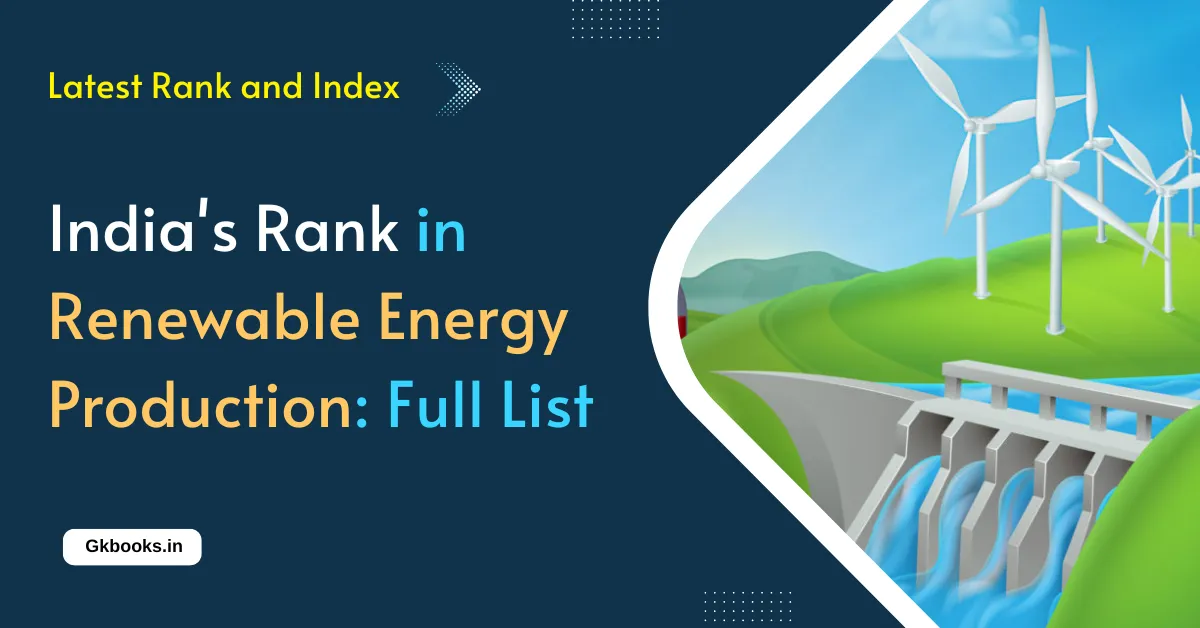 Dear Aspirant, Read this article to learn about India's renewable energy target and ranking in renewable energy production. These facts are essential for competitive exams.

Gkbooks
Also Read: India's Ranking in Different Indexes: Latest Rank and Index
Major Facts About India's Renewable Energy Target
India has set an ambitious target of installing 500 GW of renewable energy capacity by 2030. This is the world's largest expansion plan in renewable energy.
The target includes 280 GW of solar power, 140 GW of wind power, 10 GW of biopower, and 5 GW of small hydropower.
India has already surpassed its 2022 target of installing 175 GW of renewable energy capacity.
The government has implemented a number of policies to support the growth of renewable energy, including the National Solar Mission and the National Wind Energy Programme.
The renewable energy sector is expected to create millions of jobs in India.
Renewable energy is also expected to help India reduce its dependence on imported oil and gas.
Despite these challenges, India is well on track to achieve its renewable energy target. The government is committed to the development of renewable energy and is taking steps to address the challenges. The growth of the renewable energy sector is a major opportunity for India to reduce its reliance on imported energy, create jobs, and improve its environment.
India's Rank in Renewable Energy Production
Electricity Consumption Ranking: India is the world's 3rd largest consumer of electricity.
Renewable Energy Production Ranking: India is also the world's 3rd largest renewable energy producer.
Ernst & Young's RECAI Ranking: In Ernst & Young's 2021 Renewable Energy Country Attractiveness Index (RECAI), India was ranked 3rd, following the USA and China.
Renewable Energy Capacity Installed (2022) Ranking: In the year 2022, India had 40% of its energy capacity (160 GW out of 400 GW) installed from renewable sources, making it the world's 3rd largest renewable energy producer.
Solar Energy Operational Ranking (2020): As of September 2020, India had 89.22 GW of operational solar energy capacity, making it one of the top countries in terms of solar energy deployment.
Largest Solar Parks Ranking (2020): In 2020, India was home to 3 of the world's top 5 largest solar parks, including the world's largest Bhadla Solar Park in Rajasthan and the second-largest Pavgada Solar Park in Karnataka.
Wind Power Manufacturing Ranking: India has a strong manufacturing base for wind power, with 20 manufacturers producing 53 different wind turbine models of up to 3 MW in size, exporting to various countries including Europe and the United States.
Renewable Energy Capacity Growth Ranking: India's commitment to renewable energy is evident in its steady upward trajectory of installed renewable energy capacity, which has increased from 94.4 GW in 2021 to 119.1 GW in 2023 (as of Q4).
Paris Agreement Commitment Ranking: India made a commitment under the Paris Agreement's Intended Nationally Determined Contributions to produce 50% of its total electricity from non-fossil fuel sources by 2030.
Central Electricity Authority Target Ranking: The Central Electricity Authority of India has set a target of producing 50% of the country's total electricity from non-fossil fuel sources by 2030.
Renewable Energy Capacity Targets: India has set ambitious targets of producing 175 GW by 2022 and 500 GW by 2030 from renewable energy sources.
India's strong focus on renewable energy is positioning it as a global leader in sustainable energy production and consumption.
Recent Development in India's Renewable Energy Target
India's goal of achieving 500 gigawatts of renewable energy capacity by 2030 could be surpassed, driven by an expected decline in battery prices by 2025, according to Ajay Mathur, Director General of the International Solar Alliance (ISA).
Mathur, a member of India's Prime Minister's Council on Climate Change, highlighted the skewed distribution of global climate finance and emphasized India's focus on reforming multilateral development banks and promoting renewable energy investments during its G20 presidency.
As part of its G20 presidency, India invited ISA as a guest international organization, aligning with the goal of advancing renewable energy.
Mathur explained that the drop in battery prices by 2025 could pave the way for widespread adoption of solar plus battery solutions, making India's target of 500 GW of renewable energy capacity achievable and even surpassable.
Factors contributing to declining battery costs include competition among manufacturers and advancements in battery technology, with reduced material usage and the emergence of diverse battery types tailored to specific needs.
Mathur stressed the importance of achieving climate targets to prevent the global average temperature rise from exceeding 1.5 degrees Celsius compared to pre-industrial levels.
The Paris climate talks in 2015 aimed to limit global warming to 1.5 degrees Celsius to avoid the irreversible effects of climate change.
Earth's global surface temperature has already risen by around 1.15 degrees Celsius due to industrial revolution-related carbon dioxide emissions.
In the face of record-breaking heat, floods, and wildfires, countries must adapt to changing circumstances while preventing irreversible changes beyond the 1.5-degree Celsius limit.
Without intervention, the world is on track for a temperature increase of approximately 3 degrees Celsius by the century's end, with last year ranking as the fifth warmest and July of the current year recording the highest temperatures on record.
---
More Latest Posts on Rank and Index