Recently, the Measles Rubella vaccination campaign has started in schools in West Bengal. This vaccine drive program started on January 9, 2023, and will continue till February 11, 2023.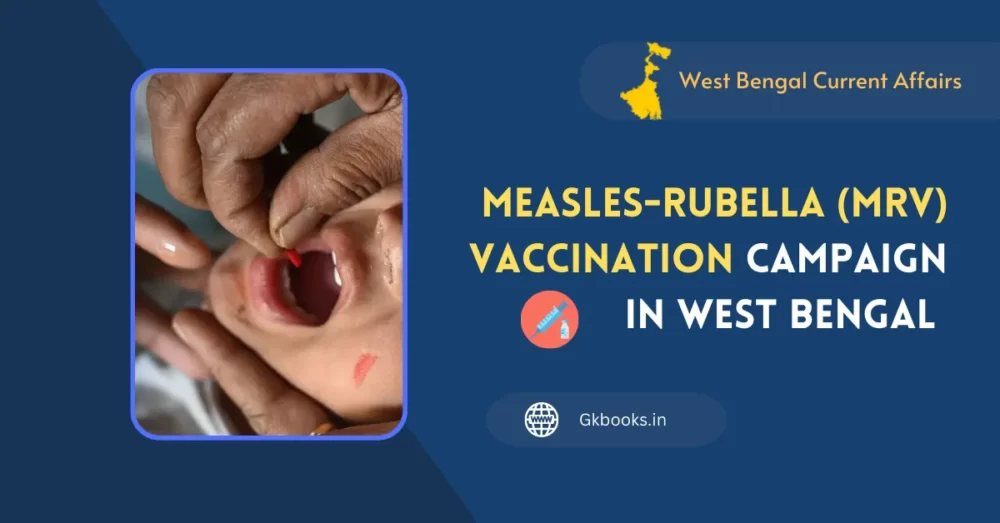 Purpose of this Vaccination Campaign
▪ According to the KMC official, the main aim of the drive is to identify those who have not yet taken a single dose of the MR vaccine despite having reached the eligible age.
▪ Another key goal of MR immunization programs is to maximize vaccine coverage.
Why the Campaign Started in Bengal
▪ In 2022, the state saw a nearly three-fold increase in measles cases compared to 2021.
▪ Health officials said that Taltala and Kidderpore will witness the highest number of cases in 2022.
▪ Despite a robust routine immunization, some children affiliated with government hospitals said they were getting MR shots for the first time.
▪ To tackle all these problems West Bengal government has started this MR vaccine campaign in schools to cover a large number of children.
MR Vaccination Campaign Details
Vaccination Campaign duration
▪ Five weeks
▪ January 9 to February 11
Number of eligible children
▪ About 2.3 crore children
Eligible Age Groups
▪ Children between nine months and 15 years
Vaccination Campaign venue
▪ During the first three weeks, camps will be set up in schools to administer the vaccine.
▪ In the remaining two weeks, a mop-up campaign will be done so that those who missed out on the dose are convinced and taken to health centers and hospitals where the jab will be administered.
Doses of MR Vaccine
▪ Each child will receive two doses of the MR vaccine
▪ The first is delivered when a child is nine months old and the second when she or he is between 16 and 24 months.
▪ Children of that age who have already been vaccinated against the disease will also be vaccinated.
▪ Apurba Ghosh, pediatrician and director of the Institute of Child Health (ICH), said, "there was no harm in administering the injection even to those who have already completed their MR or MMR (measles-mumps-rubella) vaccination."
Number of Schools
▪ More than 16 lakh children received the measles-rubella vaccine (MRV) on the first day of the special MR vaccine program.
▪ The health department started the drive from 8,000 schools in Bengal, though the target was 10,000.
▪ KMC has undertaken initiatives in 245 schools and 144 urban primary health centers in Kolkata.
MR Vaccine Drive in other States
▪ The Union Health Ministry announced a special extra dose of measles and rubella vaccine for children aged six months to five years amid an increase in measles in Bihar, Gujarat, Haryana, Jharkhand, Kerala, and Maharashtra.
▪ "The Centers for Disease Control and Prevention in the US has published data that shows that the largest numbers of measles cases have been reported from India in 2022," said Apurba Ghosh, pediatrician, and director of the Institute of Child Health (ICH).
For more detailed  information visit official website of Government of West Bengal
Frequently Asked Questions (FAQs)
Q1. When did the MMR vaccine start in India?
Answer: 1985 (Started by the Government of India (GoI) under the Universal Immunization Programme)
Q2. Which virus causes rubella?
Answer: Rubella is caused by the rubella virus
Q3. Which microbes are responsible for measles?
Answer: Measles virus (single-stranded RNA virus)
Q4. What are the Top 3 countries in terms of the measles outbreak?
Answer: 1. India > 2. Yemen > 3. Somalia