Introduction
◘ Word Health Organisations warns against a new Mutant of coronavirus known as XE. It also says that, it is more transmissible than any strain of novel corona virus.
◘ All viruses, including SARS-CoV-2, the virus that causes COVID-19, change over time.
◘ Most of the changes have little to no impact on the virus' properties. But, some changes may affect the virus's properties, such as_
• How easily it spreads
• Severity of that new strain
• Performance of vaccines
• Therapeutic medicines
• Diagnostic tools
• Other public health and social measures.
◘ The World Health Organization and its experts  rigorously monitoring the changes to the virus so that if significant mutations are identified, they can inform countries and the public about any changes needed to react to the variant, and prevent its spread.
List of Coronavirus variants
Here we have listed all recent coronavirus variants along with the first country where it is detected and their Greek alphabet name given by the World Health Organization.
| Variant Name | Country | Name given by WHO |
| --- | --- | --- |
| B.1.1.7 | United Kingdom | Alpha |
| B.1.351 | South Africa | Beta |
| P.1 | Brazil | Gamma |
| B.1.671.2 | India | Delta. |
| B.1.427/B.1.429 | United States of America | Epsilon |
| P.2 | Brazil | Zeta |
| B.1.525 | UK and Nigeria | Eta |
| P.3 | Philippines | Theta |
| B.1.526 | United States of America | Iota |
| B.1.617.1 | India | Kappa |
| C.37 | Peru | Lambda |
| B.1.621 | Colombia | Mu |
| B.1.529 | South Africa | Omicron |
| B.1.640.2 | France | IHU |
| BA.1-BA.2 | UK | XE |
XE-New Covid-19 mutant
• Recently, a new mutant of the novel coronavirus known as XE found in UK.
• As per the World Health Organisation, the XE variant is ten per cent more transmissible than the BA.2 sub-variant of Omicron.
• There are three variants of Omicron, responsible for the third wave in India, namely B.1.1529, BA.1, BA.2 and BA.3.
• India's first case of this new COVID-19 variant 'XE' has been detected in Mumbai.
A 50-year-old woman affected by the new mutant of "COVID-19", XE. According to Mumbai's civic body BMC, the woman is fully vaccinated against the virus and has shown no symptoms so far.
What is XE?
• The new variant, XE, is a mutant hybrid of two variants of Omicron, namely BA.1 and BA.2.
Where has it been found?
• "The XE recombinant (BA.1-BA.2), was first detected in the United Kingdom on January 19 and less than 600 sequences have been reported and confirmed since," the WHO said in a report released earlier this week.
Transmissibility of XE
• According to reports, the new variant of novel coronavirus is 10 per cent more transmissible than the BA.2 subvariant of Omicron, which is already the most contagious. However, this finding requires further confirmation.
• Until considerable differences in characteristics, including severity and transmission, are noted in the XE mutant, it will continue to be categorised as part of the Omicron variant, as per the WHO.
Other Mutants
• As per the report of Health Security Agency (UKHSA) of United Kingdomm, currently, there are three new recombinant strains namely- XD, XE and XF.
• A recombinant strain is one that is made up of two previously-distinct variants.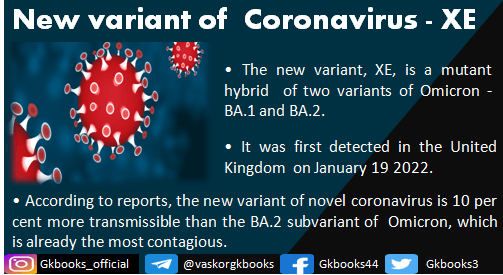 Recombinant strain XD
• XD refers to the hybrid of Delta x BA.1 variant of Omicron.
• It has predominantly found in France, Denmark and Belgium.
• According to virologist Tom Peacock from Imperial College London, "XD's spread to more than one country and its inclusion of the more severe Delta make it a strain to watch out for".
Recombinant strains XE
• XE is the hybrid of BA.1 x BA.2 sub-variants of Omicron.
• It has been found in Britain.
Recombinant strains XF
• XF is another hybrid of Delta x BA.1 lineage of Omicron.
• It was first detected in Britain.
| Mutants | Recombinant strain | Country |
| --- | --- | --- |
| XD | hybrid of Delta x BA.1 lineage of Omicron | France, Denmark and Belgium |
| XE | hybrid of BA.1 x BA.2 sub-variants of Omicron | Britain |
| XF | hybrid of Delta x BA.1 lineage of Omicron | Britain |
About Word Health Organization
• Formation – 7 April 1948
• Type – United Nations specialized agency
• Headquarters – Geneva, Switzerland
• Director-general – Tedros Adhanom
• Parent organization – United Nations Economic and Social Council
Source :- https://www.who.int/en/activities/tracking-SARS-CoV-2-variants/