Dear Aspirants,
Here, we have compiled a list of the 65th Ramon Magsaysay Awards 2023 winners, accompanied by key highlights. The key highlights of this year's Ramon Magsaysay Awards include a special focus on India. This year, a total of four individuals have been honored with the Ramon Magsaysay Awards, including one distinguished Indian recipient.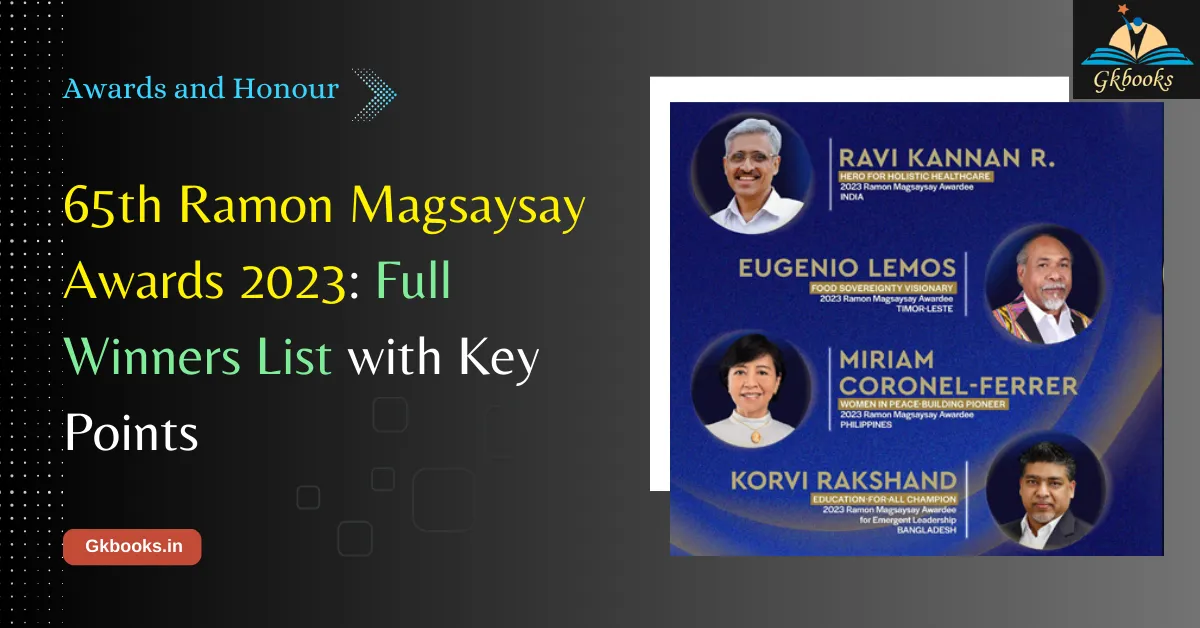 ---
65th Anniversary of Ramon Magsaysay (RM) Awards
In 2023, the Ramon Magsaysay Awards Foundation celebrates its 65th anniversary. This year, the foundation's main priority is the revitalization of the Ramon Magsaysay Center.
This initiative will empower us to uphold our tradition of honoring individuals who embody exceptional character traits and act as sources of inspiration for the leaders of tomorrow.
Read Also: 69th National Film Award 2023: Complete List Of Winners!
Announcements of 65th RM Awards
The Philippines-based Ramon Magsaysay Award Foundation (RMAF) has officially announced the 65th edition of the prestigious Ramon Magsaysay Award for 2023.
The Ramon Magsaysay Award recognizes individuals and organizations that have made significant contributions to society across various fields.
The awards ceremony is scheduled to take place in Manila, Philippines, on the 11th of November, 2023.
The theme for this edition is "Transforming Asia, Inspiring the World."
The Ramon Magsaysay Award is Often referred to as the 'Nobel Prize of Asia,'.
The 2023 Ramon Magsaysay Awardees
The 2023 Ramon Magsaysay awardees represent a diverse range of achievements and contributions. Here are the recipients and their respective categories:
Read Also: Jnanpith Awards Winners List (1965 to 2022), with top additional facts
1. Ravi Kannan: Hero for Holistic Healthcare (India)
Dr. Ravi Kannan, a surgical oncologist, serves as the Director at the Cachar Cancer Hospital and Research Centre (CCHRC) in Silchar, Assam.
He has also held the position of head of the Surgical Oncology department at the renowned Adyar Cancer Institute in Chennai, Tamil Nadu.
Dr. Kannan was honored with the Padma Shri award in 2020 in recognition of his outstanding contributions to the field of medicine, particularly in cancer care.
2. Korvi Rakshand: Education-for-All Champion (Bangladesh)
Korvi Rakshand is the founder of the JAAGO Foundation, an organization dedicated to providing education to underprivileged children in Bangladesh.
Established in 2007, the JAAGO Foundation offers free English-language education to over 30,000 students throughout Bangladesh.
3. Eugenio Lemos: Food Sovereignty Visionary (Timor-Leste)
Eugenio Lemos, an agriculturalist, is recognized for his work in promoting organic farming in Timor-Leste (East Timor).
He has played a pivotal role in ensuring sufficient food for his community while emphasizing the importance of environmental conservation and social equality.
Lemos uses his talent as a singer to advocate for food security and environmental protection.
4. Miriam Coronel-Ferrer: Women in Peace-Building Pioneer (Philippines)
Miriam Coronel-Ferrer, a peace negotiator, served as the Chief negotiator for peace talks between the Philippines government and the Moro Islamic Liberation Front, aiming to end insurgency and establish peace.
She co-founded the Southeast Asian Women Peace Mediators, which promotes dialogue and mediation initiatives in countries such as Myanmar and Afghanistan.
Additionally, she worked as a mediation adviser for the United Nations (UN) and participated in UN peace missions in several conflict zones.
Read Also: [PDF] List of month-wise Awards and Recognition 2023
We are proud to present the 2023 Ramon Magsaysay Awardees. For more information, visit https://t.co/13iyCwwUpq.#RamonMagsaysayAward #GreatnessOfSpirit #TransformativeLeadership #65thRamonMagsaysayAwards pic.twitter.com/gPrgRvZ9p5

— Ramon Magsaysay Award (@MagsaysayAward) August 31, 2023
Winners of Ramon Magsaysay Awards 2023 Tabular Format
Certainly, here is the information presented in a table format:
| Awardee | Country | Contribution |
| --- | --- | --- |
| Ravi Kannan | India | For his combination of skill, commitment, and compassion in pushing the boundaries of people-centered, pro-poor health care and cancer care |
| Korvi Rakshand | Bangladesh | For his work towards developing inclusive education for the underprivileged children in Bangladesh |
| Eugenio Lemos | Timor-Leste | For his efforts in ensuring adequate food for people and promoting the importance of conserving the environment and social equality. |
| Miriam Coronel-Ferrer | Philippines | For her unwavering confidence in the transforming power of nonviolent peacebuilding techniques. |
About the Ramon Magsaysay Award
The Ramon Magsaysay Award is often referred to as the 'Nobel Prize of Asia.
It was established to honor the values and legacy of the 7th President of the Philippines, Ramon del Fierro Magsaysay.
The award was first presented on August 31, 1958.
The award is bestowed upon exceptional individuals and organizations that have made remarkable contributions in various fields, including Government Service, Public Service, Community Leadership, Journalism, Literature and Creative Communication Arts, Peace, and International Understanding, as well as Emergent Leadership.
The prize includes a certificate, a medallion featuring an embossed image of Ramon Magsaysay, and a monetary reward of $50,000.
Read Also: [PDF] Oscars 2023: 95th Academy Awards 2023, full list of winners with key points 🏆
Past Indian Recipients of the Ramon Magsaysay Award
India has a significant presence among past Ramon Magsaysay awardees, with notable recipients such as:
Satyajit Ray (1967): Renowned filmmaker.
Prakash Amte (2008): Indian medical doctor.
Ravish Kumar (2019): Distinguished Indian journalist.
Kiran Bedi (1994): Accomplished IPS officer.
Vinoba Bhave, Mother Teresa, and Arvind Kejriwal (2006) were also among the esteemed recipients of this prestigious award.
About Ramon Magsaysay Award Foundation (RMAF)
The Ramon Magsaysay Award Foundation (RMAF) was established in 1957 with its headquarters in Manila, Philippines.
It plays a vital role in recognizing and celebrating the achievements of individuals and organizations dedicated to positive change and social progress in Asia.
Read Also: Nobel Prize 2022 Winners list PDF
Conclusion
The 65th Ramon Magsaysay Award ceremony, set to take place in November 2023, promises to honor and celebrate individuals who have made outstanding contributions to their communities and the world at large. These awardees represent a diverse range of fields and serve as inspirations for transformative change in Asia and beyond.
More Awards and Honours for You