For the sixth year in a row, Finland has been crowned the happiest country in the world, according to the World Happiness Report 2023. Here is the list and a brief description of the Top 10 happiest countries in the world.
World Happiness Index 2023
▪ This year's Globe Happiness Reflect marks the 11th anniversary of the World Happiness Index 2023 Report. The report utilizes data from global surveys to determine how individuals assess their lives in over 137 nations.
▪ Despite the gloom and uncertainty of recent times, the World Happiness Index 2023 offers a glimmer of hope. The pandemic has not only brought pain and hardship but has also resulted in increased social support and philanthropy.
▪ The World Happiness Report employs the world happiness index to measure the general level of happiness. This ranking is determined based on the evaluations of individuals regarding their personal lives, as well as on information regarding the happiness levels of nations.
▪ The report also accounts for other factors that impact the quality of life. As of March 2023, Finland has been ranked as the happiest country in the world for six consecutive years.
Also See: Top 10 Billionaires in India: Global Rankings
List of Top 10 Happiest Countries in the World
| Rank | Country |
| --- | --- |
| 1 | Finland |
| 2 | Denmark |
| 3 | Iceland |
| 4 | Israel |
| 5 | Netherlands |
| 6 | Sweden |
| 7 | Norway |
| 8 | Switzerland |
| 9 | Luxembourg |
| 10 | New Zealand |
For 6 straight years, Finland has been hailed as the country with the happiest population in the world, according to the World Happiness Report released on Monday.

The Philippines placed 76th on the list.

READ: https://t.co/Us6qGaxW8t pic.twitter.com/IwhxzLh8IR

— ABS-CBN News (@ABSCBNNews) March 21, 2023
Finland
▪ Finland has once again topped the charts as the happiest country in the world, maintaining its position for Six consecutive years. Its exceptional work-life balance, social services, and high standard of living are matched by a remarkable GDP per capita. But where Finland really shines is in its education system, which prioritizes hands-on learning over standardized testing, and necessitates a master's degree for all instructors.
▪ The nation's capital, Helsinki, is a hub of innovation and boasts of remarkable technological advancements like transportation systems and drones for healthcare. Finland's landscape is brimming with natural resources, from coastal beaches to lakes perfect for aquatic sports and forested regions ideal for camping and hiking.
▪ Tourists also flock to witness the stunning Northern Lights, illuminating the skies in autumn and spring with green, blue, and purple hues. The country is a winter wonderland, with activities such as husky sled rides, igloo stays, and a visit to Santa Claus's village that never fails to entertain children. With high levels of well-being reported by residents and a social system that values freedom, Finland outperforms all other countries on the happiness index.
The highway of Punkaharju, Finland 🇫🇮 pic.twitter.com/2BIdoP5JkF

— Wonderful Destinations by heart ❤️ (@WonderfulDest) March 14, 2023
Denmark
▪ Denmark, once named the world's happiest country, consistently ranks high in all categories in the annual survey and remains a highly sought-after place to live. With a government that inspires trust, Denmark offers a well-developed social support system for its citizens, providing free education and healthcare services that are renowned for their high quality. This year Denmark is ranked 2nd position on this list.
▪ Denmark's natural beauty further enhances its residents' quality of life, with its World Life Expectancy ranking being 23. The country has picturesque white sand beaches and vast forests for hiking, while its many castles and palaces are a testament to its rich history. Copenhagen, the capital city, has a diverse range of cultural attractions, including avant-garde architecture such as a massive complex built to resemble LEGO.
▪ Denmark's commitment to renewable energy, with over a third of its energy derived from wind power, and its culture of cycling in urban areas, are noteworthy. Other factors contributing to Denmark's high happiness index include economic stability, freedom of expression, and a healthy work-life balance.
Iceland
▪ Iceland is renowned for its exceptional performance in happiness and well-being rankings, as it surpasses many other countries across multiple measures, including healthcare, jobs, environmental quality, and civic engagement.
▪ Following the 2007 financial crisis, Iceland has made great progress in delivering services to enhance its citizens' quality of life. The country's breathtaking natural beauty is a major attraction, with towering volcanoes, pastoral fields, and glaciers capped in ice creating stunning backdrops.
▪ Iceland's hot springs, fjords, and other natural wonders are also popular tourist attractions. Reykjavik, the capital city, is recognized as one of Europe's most cultured cities, with a variety of theaters, fine dining establishments, and entertainment venues that draw in visitors.
▪ The Golden Circle road trip, which features Thingvellir National Park, Gullfoss Waterfall, and Geysir, offers a fantastic snapshot of Iceland's visual splendor. While Iceland is an expensive place to live, those who can afford it will find a country that prioritizes happiness and well-being.
Also See: Top 10 Most Polluted Countries and Cities in the World 2023
Israel
▪ According to the latest World Happiness Report, Israelis are currently experiencing their highest level of happiness in over a decade, with a fourth-place ranking in the global index.
▪ This marks a significant increase from last year's ninth-place ranking and is the highest position Israel has held since the report's inception in 2012. The report was published before the recent social unrest related to the government's proposed judicial overhaul and therefore did not reflect its impact on the country's happiness levels.
Israel is the 4th happiest country in the world, according to the 2023 World Happiness Report (WHR) 🇮🇱 pic.twitter.com/aw2DJUf7fa

— Hananya Naftali (@HananyaNaftali) March 21, 2023
Netherlands
▪ The Netherlands is indeed known for its high quality of life and is consistently ranked among the happiest countries in the world. Its commitment to a thriving green economy and extensive social support programs contribute to its success.
▪ The country's rich history and artistic heritage are also major draws, with Amsterdam being a hub for nightlife and music. The city's famous canals and museums are popular tourist destinations, and the country's windmills and tulips are iconic symbols. The Netherlands' excellent education system, high life expectancy, and low crime rates all contribute to its status as a leader in global happiness. Overall, it's a great place to live and visit.
Sweden
▪ It's worth noting that Sweden did implement COVID-19 restrictions, but took a more relaxed approach compared to some of its Nordic neighbors, and also faced criticism for its handling of the pandemic. Additionally, Pewdiepie, while a well-known YouTube star, has also faced controversy for his content and statements.
Norway
▪ Norway's commitment to sustainability and environmental conservation has also been recognized on a global scale, with the country being a pioneer in renewable energy. Its natural resources, including wind and hydropower, have helped the country become a leader in reducing greenhouse gas emissions.
▪ In addition to its natural beauty and environmental consciousness, Norway is also known for its strong social welfare system, which includes free education and healthcare, generous parental leave policies, and strong workers' rights.
▪ The country's strong focus on work-life balance and equality also contributes to its high levels of happiness, with both men and women being encouraged to take an active role in both work and family life. Overall, Norway offers a high quality of life and a sense of well-being that few other countries can match.
Switzerland
▪ Switzerland, known for its spectacular Alpine ski resorts, is an incredibly desirable holiday spot, and it's no surprise that it's also a wonderful place to live, with a high standard of living and clean mountain air that contribute to its lofty happiness index ranking.
▪ With its well-known banking industry and luxury watches, Switzerland provides its citizens with a broad range of social support programs, and the government is among the least corrupt in the world. Switzerland is a high-cost country, but with its high GDP, it offers its citizens access to a wide range of services.
▪ Although the Swiss are known for being introverted and reserved when it comes to outsiders, the social structure that binds them together is strong. This applies to their admiration for democratic values, with referendums being held on issues ranging from immigration levels to the number of vacation days allowed for its citizens. The country also has a rich cultural heritage, and it is the birthplace of the Dada art movement. Switzerland also hosts a variety of music festivals each year, from classical to rock and dance events.
Luxembourg
▪ Luxembourg is also home to some of the most beautiful forests and countryside in Europe, with the Ardennes region offering stunning natural beauty and opportunities for outdoor activities like hiking and camping.
▪ The country is also known for its impressive range of castles and fortifications, including the medieval Bock Casemates, which offer a glimpse into the country's history and strategic importance. The food in Luxembourg is a unique blend of French and German influences, with traditional dishes like Judd mat Gaardebounen (smoked pork with broad beans) and Gromperenzopp (potato soup) a must-try for visitors. With its high standard of living, diverse culture, and natural beauty, Luxembourg is an excellent destination for those looking to experience the best of Europe.
New Zealand
▪ New Zealand is known for its stunning natural beauty and outdoor recreation opportunities. The country's commitment to sustainability and eco-tourism has also contributed to its reputation as a desirable destination. The indigenous Maori culture is an important aspect of New Zealand's identity and is celebrated throughout the country. Additionally, the government offers a range of social programs and services to support the well-being of its citizens, such as universal healthcare and a strong education system.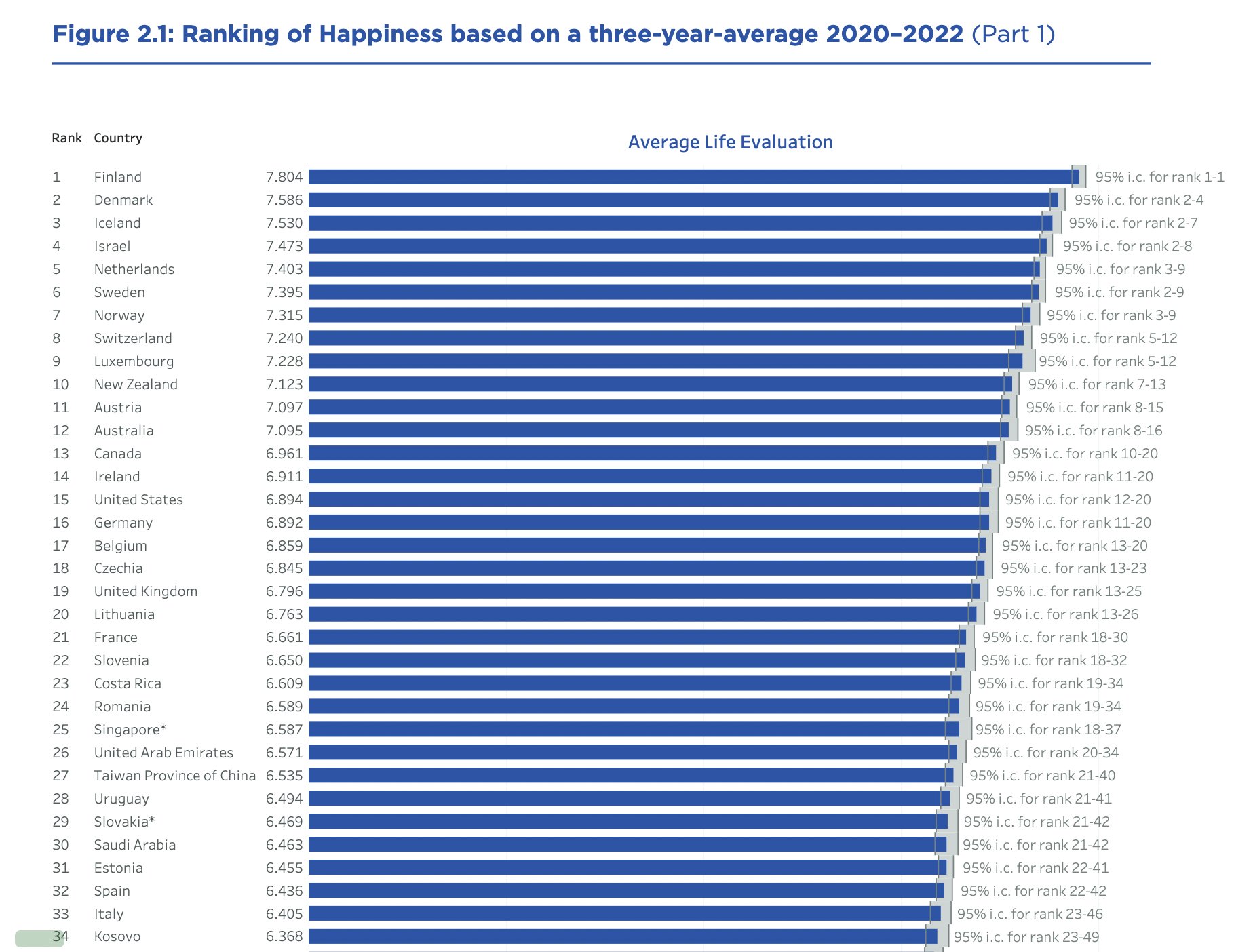 Who Released the World Happiness Index Reports?
▪ The World Happiness Index 2023 is an annual report released by the Sustainable Development Solutions Network. This report evaluates the level of happiness across more than 137 countries globally.
▪ The World Happiness Report was written by a group of independent experts acting in their personal capacities. Any views expressed in this report do not necessarily reflect the views of any organization, agency or program of the United Nations.
Which Factors are taken into consideration to determine the Happiness Report?
▪ The Sustainable Development Solutions Network of the United Nations evaluates every country on the planet and creates a list of the world's happiest nations, taking into account six factors:
Dystopia: the experience of victimization by injustice, authoritarianism, or living in a post-apocalyptic world.
Perception of corruption: citizens' perception that corruption has caused them to feel victimized.
Generosity: the fundamental human connection between individuals and a sense of empathy.
Freedom to make life decisions: the ability to make choices in life without social repercussions.
Healthy life expectancy: the expectation of living a healthy life free from fatal diseases or afflictions.
Social support: the amount of support provided and received by a country's residents.
▪ Additionally, the Gross Domestic Product (GDP) of a nation divided by its population has a significant effect on determining poverty and financial security.
What is India's Rank on the World Happiness Index 2023?
▪ India has climbed up the ranks in the World Happiness Report from 136 to 126, but it still lags behind neighboring countries like Nepal, China, and Bangladesh.
▪ Despite having the world's fastest-growing economy, India's ranking in the report has consistently been low, prompting some to question how it can be rated lower than countries in turmoil.
Here is the official List, You can download it