Welcome to our comprehensive notes on "West Bengal Current Affairs 2023: West Bengal in News Latest Current Affairs." Stay updated with the latest happenings and significant events in the dynamic state of West Bengal. Whether you're preparing for the WBCS exam or any other examination related to West Bengal, staying informed about current affairs is crucial.
In this article, we'll delve into the most relevant and noteworthy developments, ensuring you're well-equipped with the essential knowledge needed to excel in your exams and keep up with the ever-evolving landscape of West Bengal.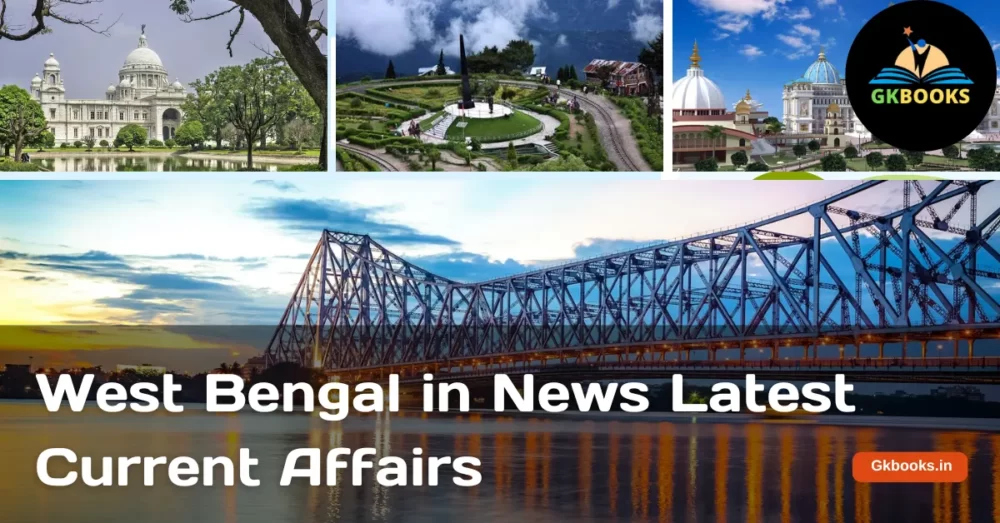 In this segment, we encompass West Bengal's Current Affairs up to July 2023. To enhance clarity, we have organized the notes into distinct subheadings, ensuring effortless comprehension. Our notes are consistently updated on a monthly basis. As each month progresses, we diligently incorporate the latest West Bengal Current Affairs, ensuring that the notes are up-to-date.
Let's dive into the world of West Bengal's current affairs and explore its importance for various exams in the region.
West Bengal Current Affairs 2023 [January to July]
New Project in Bengal
▪ Northeast region's first Vande Bharat Express was flagged off by PM Modi. The train will connect Guwahati (Assam) with New Jalpaiguri (West Bengal).
☛ It is the first "Made in India" Vande Bharat Express of Assam and the 3rd Vande Bharat Express connecting West Bengal. 

☛ The train will cover Guwahati to New Jalpaiguri, a distance of approximately 411 kilometres, within a span of 5 hours and 30 minutes. 

☛ Earlier, the fastest train on the same route took 6 hours and 30 minutes to cover the distance.
▪ Union Minister Anurag Singh Thakur joined the Bhoomi Pujan (groundbreaking ceremony) of the first National Centre of Excellence (NCOE) in Coochbehar, West Bengal, on August 16, 2023. The NCOE is being set up with the joint partnership of the Sports Authority of India (SAI) and the Indian Railways.
▪ Recently, it was informed that the commercial production of Vande Bharat sleeper trains will begin at Titagarh RailSystems Limited Uttarpara plant in West Bengal.
▪ Prime Minister Narendra Modi inaugurated the Joka-Taratala stretch of the Joka-Esplanade Metro project and flagged off eastern India's first Vande Bharat Express between Howrah and New Jalpaiguri in West Bengal.
Other Railway Projects inaugrated by PM Modi in Bengal

☛  The Boinchi-Shaktigarh third line developed at a cost of Rs 405 crore

☛  The Dankuni-Chandanpur fourth line developed at a cost of Rs 565 crore

☛ The Nimtita-New Farakka double line built at a cost of Rs 254 crore

☛ The Ambari Falakata-New Maynaguri-Gumanihat Doubling Project developed at a cost of more than Rs 1,080 crore
▪ The Prime Minister also laid the foundation stone for the redevelopment of the New Jalpaiguri Railway Station to be developed at the cost of more than Rs 335 crore.
▪ India's first underwater tunnel is being built in West Bengal.
☛ The tunnel is being built as part of the East-West Metro Corridor in Kolkata.

☛ It will be 520 meters long and 13 meters below the Hoogly riverbed.

☛ The tunnel will be used by metro trains to connect the IT hub of Salt Lake Sector V in the east to Howrah Maidan in the west.

☛ It is the first underwater tunnel in India and is expected to be a major milestone in the development of the country's infrastructure.

☛ Once this stretch is open then Howrah will be the deepest Metro station (33 m below surface) in India.
▪ Recently, Japan has approved Official Development Assistance (ODA) for a number of key projects in India. As part of these initiatives, approximately Rs. 520 crores have been allocated to the "Project for Forest and Biodiversity Conservation for Climate Change Response in West Bengal." This funding aims to support forest and biodiversity conservation efforts in the state of West Bengal, furthering climate change response and mitigation goals.
▪ World Bank has approved a $148 million loan for West Bengal to improve irrigation practices in the state.
▪ The West Bengal government has approved a project worth Rs 123.02 crore for the creation of a 13 MLD (millions of litres per day) STP (Sewage Treatment Plant) and a 300 KLD (Kiloliters Per Day) decentralized STP at Chakdaha Municipal Town in Nadia district.
☛ The project is expected to improve the sewage treatment capacity of the town and help to reduce pollution in the Ganges River. 

☛ The project is being funded by the Namami Gange project, which is a government initiative to clean the Ganges River.
Recent Festival in Bengal
▪ The Gangasagar Mela is a mela held every year at Gangasagar, West Bengal.
☛ Confluence of Ganges and Bay of Bengal known as Gangasagar.

☛ Annual fair on Makar Sankranti at Kapilmuni's ashram by the Gangasagar.

☛ Celebrated on January 14 or 15 each year.

☛ Second largest Hindu fair after Kumbh Mela.

☛ Draws devotees from various Indian states for a sacred bath.

☛ In 2023, around 51 lakhs devotees gathered as per State Minister Aroop Biswas.
▪ The first-ever Sundarban Bird Festival was organized in West Bengal. 145 bird species were spotted in Sundarban Biosphere Reserve.
▪ Recently, the Matua Dharma Maha Mela 2023 was held in West Bengal.
☛ The Mela was at Shreedham Thakurnagar, Thakurbari, in Bongaon subdivision of North 24 Parganas district in West Bengal.

☛ The Mela is an annual event that celebrates the birth anniversary of Shri Harichand Thakur, the founder of the Matua religious sect.

☛ The Matua religious sect is a Vaishnavite sect that originated in Bengal in the 19th century.

☛ The sect is primarily followed by the Namasudra community, a lower-caste Hindu community.

☛ The Matua Dharma Maha Mela is a major event for the Matua community and is a way for them to celebrate their faith and culture.
▪ From June 3rd to 5th, 2023, the Urban Climate Film Festival will take place in New Town, Kolkata.
☛ Its purpose is to use films as a tool to inform people about how climate change affects cities. 

☛ The event will showcase 16 films from 12 different countries. 

☛ Notably, the festival will observe World Environment Day on June 5th, concluding with a special closing ceremony.
Obituaries Related to Bengal
▪ Kalyani Kazi, the eminent singer and the youngest daughter-in-law of poet Kazi Nazrul Islam passed away in Kolkata, West Bengal, at the age of 87.
☛ Kalyani Kazi was a member of the advisory council of Poschimbongo Kazi Nazrul Islam Akademi.

☛ She was honoured with the Sangeet Mahasamman Award from West Bengal in 2015.
▪ Sasthipada Chattopadhyay, a renowned Bengali novelist, and short story writer, passed away in Howrah, West Bengal, at the age of 82.
▪ Pradeep Sarkar, a Kolkata-based Bollywood director, and writer well-known for making films like "Parineeta"(2005) and "Mardaani"(2014), passed away in Mumbai, Maharashtra at the age of 67.
▪ Senior Bharatiya Janata Party (BJP) leader and former West Bengal governor Keshari Nath Tripathi has passed away at the age of 88.
▪ Former Union Minister and senior BJP leader Satyabrata Mookherjee has passed away. He is the former Additional Solicitor General of India (ASG) and the father of current West Bengal Advocate General SN (Gopal) Mookherjee.
▪ Renowned Bengali author Samaresh Majumdar has passed away.
☛ Novelist Majumdar is best known for his 'Animesh' series. 

☛ He won the Sahitya Akademi Award for 'Kalbela' in 1984. 

☛ In 2018, the West Bengal government honoured him with the 'Banga Bibhushan' award.
▪ Former Indian footballer Parimal Dey, who was fondly known as "Jangla-da" passed away at the age of 81. He was born on 4th May 1941 in West Bengal.
▪ Legendary Indian football player and two-time Olympian Tulsidas Balaram (Tulsidas Balaraman), an Arjuna Awardee, passed away in Kolkata, West Bengal, at the age of 87.
▪ Chandrashekhar Dasgupta, a former Indian diplomat and the Padma Bhushan Awardee (2008), passed away at the age of 82. He was born on 2nd May 1940 in Kolkata, West Bengal.
Military Exercise and Defence News
▪ The Indian military conducted its exercise "Trishakti Prahar" in West Bengal.
▪ The Cope India exercise 2023 will be held at the Kalaikunda airbase in Panagarh, West Bengal between India USA.
▪ Recently, Indian Coast Guard has conducted the joint Coastal Security Exercise "Sagar Kavach", along the coast of West Bengal.
▪ ICGS Kamla Devi is the fifth and last vessel in the series of fast-patrol vessels (FPVs) built by Garden Reach Shipbuilders and Engineers Ltd. (GRSE), Kolkata, in a public-private partnership (PPP) with Titagarh Wagons Limited (TWL).
☛ The vessel was commissioned in Kolkata, West Bengal, on January 12, 2023. 

☛ The vessel is 48.9 meters long and 7.5 meters wide with a displacement of 308 tonnes. 

☛ It is capable of a top speed of 34 knots and an endurance of over 1,500 nautical miles. 

☛ It is fitted with a 40/60 gun as the main armament. 

☛ The vessel will be used for coastal patrolling, search and rescue, and other maritime operations.
▪ INS Androth is the second in a series of eight Anti-Submarine Warfare Shallow Water Crafts (ASW SWC). It was launched in Kolkata, West Bengal, on March 21, 2023.
☛ The ship made its first contact with the water of the Hooghly River at the launch ceremony. 

☛ The launch ceremony was presided by VAdm Dinesh K Tripathi, Flag Officer Commanding-in-Chief (FOC-IN-C) West. 

☛ INS Androth was built by Garden Reach Shipbuilders and Engineers Ltd. (GRSE), Kolkata, West Bengal. 

☛ It is 77.6 meters long and 10.5 meters wide. 

☛ It has a displacement of 250 tonnes.
Miscellaneous CA
▪ The Chief Minister of West Bengal requested the Central government to permit the cultivation of poppy in the state.
☛ Poppy seeds are important for Bengali dishes, and they are expensive since they are grown in only a few states. 

☛ Currently, opium poppy cultivation is allowed in specific areas of Madhya Pradesh, Uttar Pradesh, and Rajasthan.
▪ The West Bengal government has shared that starting from the academic session 2023-2024, the four-year undergraduate program in line with the National Education Policy (NEP) 2020 will be implemented across all government and government-aided higher education institutions. Students completing this program will receive degrees based on the UGC national curriculum and credit framework designed for undergraduate-level courses.
▪ According to the recently held Great Backyard Bird Count 2023 in India, West Bengal has reported the highest number of species.
▪ Recently, West Bengal has notified Char Balidanga (Nadia) as the Biodiversity Heritage Site
(BHS).
☛ The government has notified Char Balidanga (Nadia), Namthing Pokhari (Darjeeling), Amkhoi Wood Fossil Park (Birbhum) and State Horticulture Research and Development Station (Nadia) as the four latest biodiversity heritage parks. 

☛ West Bengal now has the highest number of biodiversity heritage parks in the country. 

☛ The four existing BHS in Bengal are Dhotrey and Tonglu, both in Darjeeling, Chilkigarh Kanak Durga Biodiversity Heritage Site in Jhargram and Baneswar Shiv Dighi in Cooch Behar.
▪ Santiniketan, located in West Bengal, has received a recommendation for inclusion in UNESCO's World Heritage List.
▪ Mumbai (Maharashtra)-based Tata Steel Limited has successfully completed the first multimodal shipment of 960 tonnes of steel TMT (Thermo Mechanically Treated) bars from Haldia Port in West Bengal to Agartala in Tripura through the Indo-Bangladesh Protocol (IBP) route.
▪ Chandrima Bhattacharya, Finance Minister of West Bengal, presented the Rs. 3,39,162 crore Budget of West Bengal(WB) for the Financial Year 2023-24. The budget focused on farmers, the tea sector, and the potential of WB as a logistics hub and entrepreneurs.
▪ PM Modi, and the PM of Bangladesh, Sheikh Hasina, jointly inaugurated the India-Bangladesh Friendship Pipeline (IBFP). The IBFP is a 131.5-kilometer-long cross-border pipeline that connects Siliguri in West Bengal, India to Parbatipur in the Dinajpur district of Bangladesh.
▪ Union Minister Sarbananda Sonowal received the first Indian cargo ship at the Sittwe Port in Myanmar. The inauguration of the Sittwe Port marked the start of regular transit of cargo ships between Syama Prasad Mookerjee Port in Kolkata (West Bengal), India to Sittwe Port in Rakhine, Myanmar.
New Initiatives
▪ The West Bengal government recently declared the establishment of a 'Mangrove Cell' within the state as part of the International Day for the Conservation of the Mangrove Ecosystem.
☛ This special cell will focus entirely on managing and safeguarding mangroves.

☛ It will collaborate closely with Non-Governmental Organizations (NGOs) to strengthen mangrove conservation endeavors. 

☛ The cell has devised a comprehensive strategy for planting mangrove trees, conducting research, and aligning activities with NGOs. 

☛ Additionally, it will raise funds from private and international sources to support its initiatives.
▪ West Bengal has launched a unique human-driven initiative "Gajamitra (Friends of Elephants)".
☛ The initiative was launched by the West Bengal Forest Department in 2023.

☛ It aims to reduce human-elephant conflict in the state.

☛ Under the initiative, 600 local youth will be appointed as Gajamitras.

☛ The Gajamitras will be responsible for monitoring elephant movement, early warning of elephant movement to nearby villages, and spreading awareness about elephant conservation among the local communities.

☛ The initiative is funded by the World Bank.
▪ West Bengal has launched buses with air purifiers named "Suddha Vayu".
☛ The buses have been launched by the West Bengal Pollution Control Board (WBPCB) in collaboration with IIT Delhi.

☛ The buses are fitted with a Bus Roof Mounted Air Purification System (BRMAPS) developed by IIT Delhi.

☛ The buses have been deployed in Kolkata and Howrah.

☛ It can effectively remove pollutants from the air inside buses, including particulate matter (PM), nitrogen dioxide (NO2), and ozone (O3).

☛ It is powered by a solar panel and does not require any external power supply.
▪ Dun & Bradstreet (D&B) India has partnered with the West Bengal (WB)government to issue Data
Universal Numbering System (D-U-N-S) Numbersto exporters and Micro Small and Medium Enterprises (MSME) in the state.
▪ The Insurance Regulatory and Development Authority of India (IRDAI) has appointed Cholamandalam MS General Insurance Company Ltd (Chola MS) as the lead insurer for the state of West Bengal. Chola MS is a joint venture between the Murugappa Group and Mitsui Sumitomo Insurance Company Ltd, Japan.
☛ The appointment of Chola MS as the lead insurer is in line with the IRDAI's vision of "Insurance for All by 2047" (State Insurance Plan). 

☛ The State Insurance Plan aims to increase insurance awareness and penetration throughout West Bengal. 

☛ Chola MS will focus on various aspects of insurance in West Bengal, including: 
          • Health protection
          • Coverage against natural calamities
          • Increasing employment opportunities for locals
          • Protecting MSME businesses through comprehensive insurance offerings
Rank and Reports
▪ According to the recently released census of water bodies by the Ministry of Jal Shakti, West Bengal has the highest number of ponds and reservoirs.
☛ The top district in terms of waterbodies is South 24 Parganas in West Bengal.

☛ Andhra Pradesh has the highest number of tanks.

☛ Tamil Nadu has the highest number of lakes.

☛ Maharashtra leads in water conservation schemes.

☛ The report highlights that 97.1% of the waterbodies are in rural areas, with only 2.9% in urban areas.
▪ West Bengal tops the list in Foundational Literacy and Numeracy (FLN) Index under the large state categories. The FLN Index 2022 is an indicator of literacy among children below 10 years of age.
▪ According to a list published by the Central Electricity Authority (CEA), the Ministry of Power, West Bengal Power Development Corporation (WBPDCL) has ranked best performing power generation company in the country for the financial year 2022-23 (FY23)
▪ West Bengal ranks 5th in terms of foreign tourist arrivals, and the state has enacted a number of tourism-related policies, including the WB Tourism Policy 2019, the Tea Tourism Policy (which permits garden owners to use 15% of their land for tourism purposes), and the Homestay Tourism Policy.
Scheme, Apps, Portal of Bengal
▪ Mamata Banerjee, Chief Minister of West Bengal, launched "Pathashree-Rastashree" in Singur, WB. It is a flagship project of the government of WB to strengthen road infrastructure and enhance connectivity to villages by constructing 12,000 km of roads in 22 districts of WB.
▪ In a significant move to bridge the gap between non-resident Bengalis and the West Bengal government, Chief Minister Mamata Banerjee unveiled the "Apan Bangla" (Own Bengal) portal on the occasion of International Mother Language Day, celebrated on the 21st of February 2023.
▪ On January 9, 2023, West Bengal Chief Minister Mamata Banerjee inaugurated a new vehicle location control centre and mobile app, as a part of efforts to enhance security for women in the state.
Award and Honour
▪ Pritikana Goswami, a Kantha embroidery artist from West Bengal (South 24 pgs), has been awarded the Padma Shri for her art and for her work empowering women.
▪ West Bengal's BANGLASHREE Scheme Wins SKOCH Award for Gold in Ease of Doing Business.
☛ BANGLASHREE scheme by Directorate of MSMEs, Govt. of West Bengal.

☛ Awarded SKOCH Gold Award in Ease of Doing Business category.

☛ SKOCH Award recognizes exceptional achievements in various fields.

☛ Award for innovative and effective measures in improving business ease.

☛ BANGLASHREE launched in 2022, supports MSMEs with financial aid.
▪ Dhaniram Toto, a guardian of the Toto (Dengka) language, hailing from Totopara village in West Bengal's Alipurduar district, was honored with the Padma Shri award for his contributions in Literature & Education, specifically for the Dengka language. Dhaniram Toto is credited with creating a script for the endangered indigenous language Toto.
Shri Dhaniram Toto developed a script for the critically endangered indigenous language Toto. He has been awarded the Padma Shri 2023 for his contributions to the field of Literature and Education. #PeoplesPadma #PadmaAwards2023 pic.twitter.com/eoo7uIqluX

— MyGovIndia (@mygovindia) March 22, 2023
▪ Mangala Kanti Roy, a 102-year-old musician skilled in playing the sarinda from Jalpaiguri in West Bengal, was honored with the Padma Shri award. Recognized for her contributions to 'Art (Folk Music)', this centenarian was honored with the Padma Shri, which is India's fourth-highest civilian distinction.
▪ Jawahar Navodaya Vidyalaya in Nadia, West Bengal, clinched the top spot in the 24th National Youth Parliament Competition of 2022-23.
New Appointments
▪ Recently, Rajiv Sinha has been appointed as the next Election Commissioner of West Bengal.
▪ Sourav Ganguly, former Indian cricket team captain who served as the 35th President of the Board of Control for Cricket in India (BCCI), has been appointed the brand ambassador of Tripura tourism.
▪ Former West Bengal DGP Virendra has been appointed as the new State Information Commissioner (SIC).
Sports and Events in Bengal
▪ Saurashtra cricket team won the Mastercard Ranji Trophy 2022-2023 defeating the Bengal cricket team(West Bengal) by 9 wickets in the finals of held in Eden Gardens in Kolkata, West Bengal.
▪ Kolkata-based chess player KoustavChatterjee (19-year) became India's 78th Grandmaster (GM) in MPL 59th National Senior Chess. He is also the 10th GM from Kolkata and West Bengal (WB)
Summit and Conference in Bengal
Tourism Working Group Meeting
▪ The 2nd G20 Tourism Working Group Meeting was held in Siliguri, Darjeeling District, West Bengal, India under the theme "Travel for LiFE" (Sustainable Tourism for Inclusive and Resilient Societies).
☛ The meeting discussed five priority areas for India's G20 Presidency: 

              1. Green Tourism
              2. Digitalization
              3. Skills
              4. Tourism MSMEs
              5. Destination Management. 

☛ The meeting also included a side event on "Adventure Tourism as a vehicle for achieving Sustainable Development Goals". 

☛ The meeting concluded with a call for action to promote sustainable tourism and achieve the Sustainable Development Goals. 

☛ The meeting was inaugurated by the Union Minister for Tourism, Culture and Development of North Eastern Region, Shri G. Kishan Reddy. 

☛ The meeting was co-chaired by the Secretary of Tourism, Government of India, Shri U.P. Singh, and the Director-General of the World Tourism Organization, Zurab Pololikashvili. 

☛ The meeting was held at the Eastern Himalayan Institute of Tourism and Travel Management (EHITT) in Siliguri. 

☛ The meeting was preceded by a technical visit to Darjeeling on April 1, where the delegates visited the Darjeeling Himalayan Railway, the Batasia Loop, and the Governor's House.
e-Export Haat Meeting
▪ West Bengal Industrial Development Corporation(WBIDC), Amazon Global Selling, and the Federation of Indian Chambers of Commerce & Industry(FICCI) jointly organised an e-Export Haat at SilpaSadan, Kolkata, West Bengal(WB).
☛ Organizers: West Bengal Industrial Development Corporation (WBIDC), Amazon Global Selling, Federation of Indian Chambers of Commerce & Industry (FICCI) 

☛ Venue: SilpaSadan, Kolkata, West Bengal (WB) 

☛ Objective: Assist small businesses and entrepreneurs from West Bengal in global business expansion through e-commerce exports. 

☛ Initiative: Aligned with West Bengal government's aim to enhance e-commerce export prospects via online trading platforms
More Category-wise Latest Current Affairs