World Pulses Day is an annual event celebrated on February 10th to raise awareness about the nutritional and environmental benefits of pulses. The goal of this day is to promote the use of pulses as a sustainable food source and highlight their importance for a healthy diet and a healthy planet.
What are Pulses
▪ Pulses, commonly referred to as legumes, are the edible seeds of plants belonging to the legume family, grown for food purposes.
▪ The most popular and widely consumed types of pulses are dried beans, lentils, and peas.
▪ Pulses can be found in a variety of dishes and cuisines across the globe, such as hummus made with chickpeas in the Mediterranean, baked navy beans in a traditional English breakfast, and Indian dal made with peas or lentils.
▪ It's important to note that green crops like green peas and green beans, mainly grown for oil extraction like soybean and groundnuts, and crops used only for planting, like clover and alfalfa seeds are not considered pulses.
First Evidence of Pulses
▪ The earliest indications of pulses date back to over 11,000 years and are found in the Fertile Crescent, a region located in the Middle East, which was the birthplace of some of the earliest human civilizations.
Types of Pulses recognized by FAO
▪ The United Nations Food and Agriculture Organization (FAO) acknowledges 11 categories of pulses, which include dry beans, broad beans, dry peas, chickpeas, cow peas, pigeon peas, lentils, Bambara beans, vetches, lupins, and pulses nes.
About FAO

▸ FAO stands for - Food and Agriculture Organization

▸ Formation - 16 October 1945 

▸ Founded at - Quebec City, Quebec, Canada

▸ Headquarters - Rome, Lazio, Italy

▸ Director-General - China Qu Dongyu

▸ Goals - International efforts to defeat hunger and improve nutrition and food security. 
World Pulses Day Date
▪ It is a global event and is celebrated on 10 February to highlight the importance of pulses as a worldwide food. The day recognizes the significant role that pulses play in achieving the comprehensive, far-reaching, and people-centered set of universal and transformative goals. Also, to achieve the targets of the United Nations' 2030 Agenda for Sustainable Development.
World Pulses Day 2023: History
▪ The United Nations General Assembly adopted a resolution in December 2013 to designate 2016 as the International Year of Pulses (IYP) in recognition of their value.
▪ The year was celebrated globally under the guidance of the Food and Agriculture Organization of the United Nations (FAO) and aimed to raise public awareness about the nutritional and environmental advantages of pulses as a part of sustainable food production.
▪ Inspired by the success of the International Year of Pulses (IYP), Burkina Faso proposed World Pulses Day in light of the important role that pulses play in advancing the 2030 Agenda for Sustainable Development Goals.
World Pulses Day 2023 Theme
▪ The 2023 World Pulses Day theme is "Pulses for a Sustainable Future".
▪ This theme highlights the importance of pulses in creating livelihood opportunities and promoting equity, which are crucial components of sustainable agrifood systems.
▪ The program will emphasize the role that pulses play in providing employment to rural women and young people in both the farming and manufacturing industries.
Significance of Pulses
▪ Pulses are a nutrient-rich food source with a high protein content, making them an excellent source of protein in areas where access to meat and dairy products is limited.
▪ They are low in fat and high in soluble fiber, which helps to control cholesterol levels and blood sugar.
▪ Health organizations recommend pulses for managing non-communicable diseases such as diabetes and heart conditions, and they have been shown to aid in combatting obesity.
▪ For farmers, pulses play an important role in household food security and economic stability, as they can both be sold and consumed.
▪ The nitrogen-fixing qualities of pulses enhance soil fertility, improving and extending the productivity of farmland.
▪ Additionally, using pulses for intercropping and cover crops promotes farm and soil biodiversity while deterring harmful pests and diseases.
▪ By reducing dependence on synthetic fertilizers, pulses also contribute to mitigating climate change as the production and application of these fertilizers release greenhouse gases and can harm the environment if overused.
World Pulses Day – Latest Web-Stories
World Pulses Day 2023 Quotes
▪ "On World Pulses Day, let us celebrate the many benefits of this pliable and nutritious food, and make it a staple in our diets for a healthy tomorrow."
▪ "When diet is wrong, medicine is of no use. When diet is correct, medicine is of no need." – Ayurvedic Proverb
▪ "Take care of your body. It's the only place you have to live." – Jim Rohn
▪ "Pulses are a powerhouse of nutrition, helping us to achieve our daily protein needs, maintain a healthy weight, and prevent chronic diseases."
▪ "The doctor of the future will no longer treat the human frame with drugs, but rather will cure and prevent disease with nutrition." – Thomas Edison
▪ "Sorry, there's no magic bullet. You gotta eat healthily and live healthily to be healthy and look healthy. End of story." – Morgan Spurlock
▪ "Pulses are the unsung heroes of the food world – providing essential nutrition, promoting sustainable agriculture, and helping to feed a growing population."
▪ "Your diet is a bank account. Good food choices are good investments." – Bethenny Frankel
▪ "Pulses are not only good for our health, but also for the health of our planet. Let us celebrate World Pulses Day and make a commitment to a more sustainable future."
▪ "You are what you eat, so don't be fast, cheap, easy, or fake." – Unknown
▪ "The greatest wealth is Health." – Unknown
▪ "Pulses are a vital ingredient in a healthy and sustainable diet. Let us celebrate World Pulses Day and make them a staple in our meals."
▪ "To keep the body in good health is a duty, otherwise we shall not be able to keep our mind strong and clear." – Buddha
▪ "Healthy eating is a way of life, so it's significant to establish routines that are simple, realistically, and ultimately livable." – Horace
▪ "Eating pulses not only provides us with the essential nutrients, but it also helps foster sustainable agriculture and fights against climate change."
To gain more information about the 10 points related to World Pulses Day 2023, download the PDF document.

1. Etymology
2. Pulses vs. Legumes
3. Crops of Ancient Origin
4. Versatile ingredient  with long shelf life
5. Part of the vital web of biodiversity
6. Foster sustainable agriculture and soil protection
7. Highly Water Efficient
8. Unexpected ally against climate change
9.A Powerful superfood
10. Economically accessible and multipurpose  
---
Learn More about Pulses
Difference Between Cereals and Pulses
| Characteristics | Cereals | Pulses |
| --- | --- | --- |
| Classification | Grains obtained from grass species (Family – Poaceae) | Seeds of legume plants (Family – Leguminosae) |
| Nutrition facts | Rich in carbohydrates (Lower in protein and fiber compared to pulses) | Rich in protein and fiber |
| Examples | Wheat, Maize, Barley, Oats | Lentils, Chickpeas, Beans, Peas, Kidney Beans |
| Staple Diet | Due to high carbohydrate content, cereals are one of the staple food in many countries | Pulses mainly consumed for their protein content, consumption is comparatively lower than Cereals |
| Crop Production | Grown in large quantities for human and animal consumption | Comparatively smaller production when compared to cereals |
Pulses Name in English with Pictures
▪ In India, pulses are widely known as "Dals." They form an integral part of Indian cuisine, with a wide range of varieties available in every household. No Indian kitchen is truly complete without these colorful and nutritious staples, which add a touch of zest and taste to everyday meals.
Common Pulses Examples
Red Lentils (Masoor Dal)
Bengal Gram (Chana Dal)
Black Gram (Urad dal)
Yellow Pigeon Peas (Tur Dal)
Green Gram (Moong Dal)
Chickpeas (Chole)
Horse Gram (Kulthi dal)
Black Chickpea (Kala chana)
White Urad Dal
Green Pigeon Peas (Hare Tuvar dal)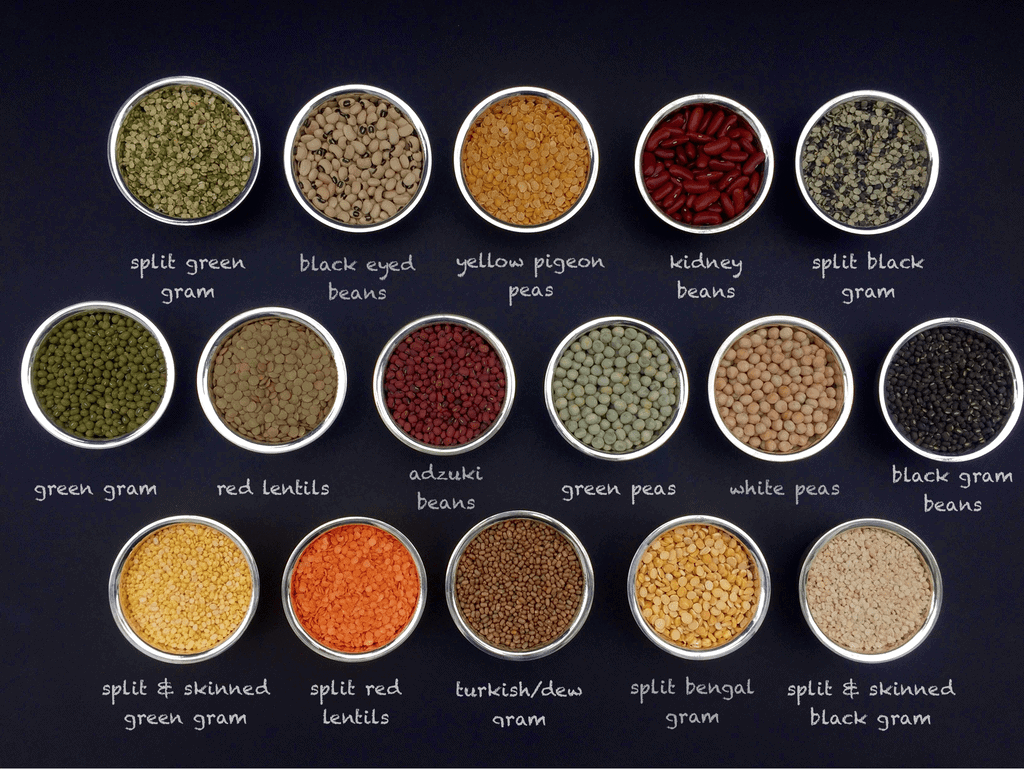 Top 5 Largest Producers of Pulses in India
▪ Rajasthan has emerged as one of India's top producers of pulses, with an annual production of 4821.84 tonnes in the fiscal year 2020-2021. The state is particularly renowned for its high production of various types of pulses like moong, moth, moong, and gram during the Rabi season, and arhar during the Kharif season. In terms of production, Rajasthan is followed closely by Madhya Pradesh and Maharashtra.
▪ Top 5 states:
Rajasthan
Madhya Pradesh
Maharashtra
Uttar Pradesh
Karnataka
Largest Producer of Pulses in the World
▪ India leads the world in pulse production with a quarter of the global output and is also a significant consumer, accounting for 27% of the world's consumption.
▪ Additionally, it is a major importer with 14% of the global pulse trade. Other significant producers include Canada, Myanmar, China, Nigeria, Brazil, Australia, USA, Russia, and Tanzania. Major pulse-exporting countries include Argentina, France, Ethiopia, and Turkey.
Top Key Facts You Should Know About Pulses
Key Facts About Pulses
Pulses are rich in
Pulses are good source of plant-based protein, Iron, Potassium, fibre, folate (B-vitamin)
In pulses, protein is stored in
Cotyledons
Pulses are group of plants belonging to family
Legume family
Largest producer of pulses in India
Rajasthan
King of Pulses
Chikpea
Queen of Pulses
Pea
Indian institute of pulses research located in
Kanpur, Uttar Pradesh
Which Pulses is high in protein?
Fava Beans (nearly 26.12 g/100 g)
A Rabi Crop that is also one of the pulses
Masoor or lentil
World Pulses Day 2023 in a Nutshell
| | |
| --- | --- |
| Official Name | World Pulses Day |
| Observed by | Food and Agriculture Organization (FAO) of United Nation |
| Date | 10 February |
| Frequency | Annual |
| Theme 2023 | "Pulses for a Sustainable Future" |
| Purpose of the Day | To raise awareness about the nutritional benefits of pulses as part of sustainable food production aimed towards food security and nutrition. |
| International Year of Pulses. | 2016 |
| The day Proposed by | Burkina Faso |
| International Year of Pulses (IYP) implemented by | Food and Agriculture Organization (FAO) |
Frequently Asked Questions (FAQs)
Q1. What is the theme for World Pulses Day 2023?
Answer: World Pulses Day 2023 theme is "Pulses for a Sustainable Future".
Q2. Why is World Pulses Day celebrated?
Answer: The United Nations General Assembly designated February 10 as World Pulses Day to recognize the nutritional value of pulses and their role in sustainable food systems and in reducing world hunger.
Q3. Which country proposed the observance of world pulses day?
Q4. When is world pulses day observed across the world?
Answer: Every year World Pulses Day is celebrated all over the world on February 10.
Q5. Which pulse crop is known as poor man's meat?
Answer: Lentils
• Lentils, a type of pulse crop under the legume category, are commonly referred to as "poor man's meat" due to their high protein content, high fiber, and low-fat content. They are also rich in essential minerals. Some of the commonly known types of lentils include green gram, yellow gram, orange gram, black gram, and Bengal gram.
Read More Event