Take a look at the compilation of the first solar-based projects and initiatives in India, such as the first solar-powered airport, boat, village, and more. India's solar industry is rapidly growing as a significant component of the country's renewable energy sector. As of 31st March 2022, India's installed solar capacity had reached 53.997 GW. The government has pledged to tackle climate change, setting a target of achieving net zero emissions by 2070. India also aims to meet 50% of its electricity needs from renewable sources by 2030. Below are some of India's initial solar-based initiatives:
Also read Important Target Year of Government of India
Sanchi: India's First Solar City
▪ Sanchi, a world heritage site in Madhya Pradesh, is set to become India's first solar city in May.
▪ Madhya Pradesh Chief Minister Shivraj Singh Chouhan reviewed the ongoing works to transform Sanchi into a solar city.
▪ The use of solar energy is being promoted in Madhya Pradesh with many solar power projects already operational.
▪ Completion of various works to transform Sanchi into a solar city is almost complete.
▪ The chief minister said this accomplishment would give Madhya Pradesh a new identity in the field of renewable energy.
▪ Madhya Pradesh has become self-sufficient in power generation and supply and has made progress in the renewable energy sector.
Sooryamshu: First Solar-Powered Tourist Boat
▪ The state-owned Kerala Shipping and Inland Navigation Corporation (KSINC) has recently launched a unique solar-powered hybrid boat named "Sooryamshu" for tourists in the Kochi backwaters, making it the first of its kind in Kerala.
▪ The boat, which can accommodate up to 100 passengers, was built by the Solas Marine Services Group based in the United Arab Emirates and was named after the Hindi translation of "Sunbeam".
▪ The vessel, costing Rs 3.95 crore and built in a Sri Lankan yard, is one of the few boats in Kochi to have its safety and allied features approved by the Indian Registry of Shipping.
▪ The vessel offers a 6-hour day cruise package priced at Rs 799 per person and will operate along the Marine Drive-Kadamakkudy corridor before venturing 10 km into the sea.
Dudhala: The First Completely Solarised Village
▪ Dudhala village in Gujarat will become the first completely solarized village by a Foundation.
▪ It will be a joint venture of Goldi Solar, EPC services provider & Shree Ramkrishna Knowledge Foundation (SRKKF)
▪ Once the project gets complete, it will become the first village to be completely powered with solar panels by a foundation.
▪ The project is undertaken under Shri Govindbhai Dholakia's Mentorship.
India's First Railway Solar Power Plant
▪ Indian Railways along Bharat Heavy Electricals Limited (BHEL), has successfully commissioned India's first Solar Photovoltaic Plant.
▪ The plant is located at Bina, Madhya Pradesh
▪ Total capacity 1.7-MegaWatt (MW).
▪ The installation of the solar plants is to achieve conversion of Indian Railways to 'Net Zero' Carbon Emission and 'Go Green' by 2030.
First solar-based IMVWSP
▪ Union Jal Shakti Minister, Gajendra Singh Shekhawat has launched India's first solar-based Integrated Multi Village Water Supply Project (IMVWSP) in Arunachal Pradesh.
▪ The solar-based lift water supply project is the 'first of its kind in the country and has been commissioned at a cost of Rs 28.50 crore.
▪ The project would provide drinking water to 17,480 people in 39 villages of the Lower Dibang Valley district in Arunachal Pradesh.
▪ The solar-based Project has been designed as an integrated project with three components, which are drinking water, green energy, and tourism.
▪ The project uses a green-energy-solar grid, SCADA automation system, pre-fabricated zinc alum storage tank, and HDPE conduit for mains, sub-mains, and distribution networking system.
▪ The project also includes an amusement park including a swimming pool, amphitheater, fountains, and sit-outs.
Asia's first solar power-enabled Textile Mill
▪ Asia's first solar power-enabled Textile Mill will come up in the Parbhani district of Maharashtra.
▪ The project, once functional, will provide jobs to many women in the district.
▪ The Jai Bhawani women's cooperative textile mill will be the first in Asia that will operate on solar power.
▪ The solar power-enabled Textile Mill is spread across thirty acres of land, the mill will process cotton to the cloth.
▪ The overall cost of setting up the project is around Rs. 100 crore.
Mizoram's first solar power plant
▪ Mizoram's first solar power plant has been commissioned at Tlungvel.
▪ The grid-connected 2 megawatts solar photovoltaic (SPV) solar power plant was opened by state Power Minister R Lalzirliana.
▪ The minister said that a 20 MW solar power plant and a 5 MW solar power plant are being currently constructed at Vankal in the Khawzawl district and near Saitual town respectively.
UP – First P2P rooftop solar trading platform
▪ Uttar Pradesh has launched India and South Asia's first blockchain-enabled 'peer-to-peer' (P2P) trading platform for rooftop solar power producers.
▪ The pilot project was hosted by The Uttar Pradesh Power Corporation (UPPCL), Madhyanchal Vidyut Vitran Nigam Limited (MVVNL), and Uttar Pradesh New and Renewable Energy Development Agency (UPNEDA).
▪ Initially, the project involved energy generated from solar rooftop systems installed on buildings in Lucknow.
▪ India Smart Grid Forum (ISGF), along with blockchain technology partner Power Ledger, Australia, and Abajyon Consulting, will execute the project.
▪ The P2P trading platform's first 12 participants would comprise nine customers with rooftop solar (prosumers) and three customers without rooftop solar (net buyers), identified in consultation with MVVNL.
▪ "The pilot project will demonstrate the feasibility of rooftop solar energy trading through smart contracts on the blockchain platform between neighboring households.
India's first solar-powered Miniature Train
▪ Chief Minister, Pinarayi Vijayan, inaugurated India's first solar-powered Miniature Train in Kerala.
▪ The stations are designed in a traditional style. The surplus energy generated by the system is routed to the(Kerala State Electricity Board) KSEB's grid. (ANI report)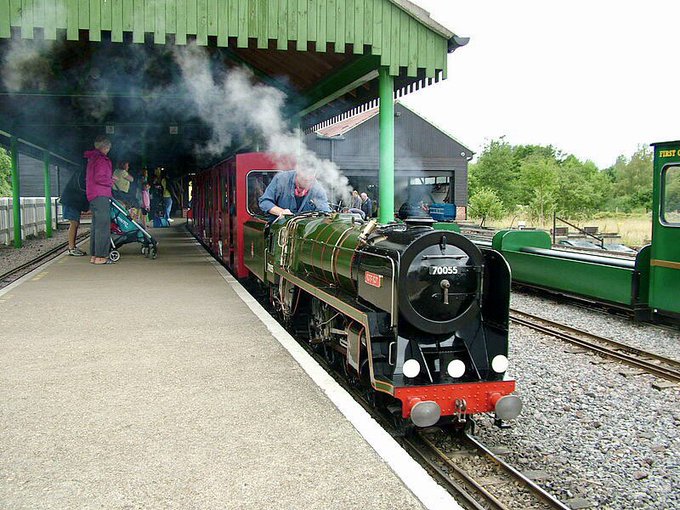 First Solar Lift Irrigation Plant of Kargil
▪ Ladakh Lieutenant Governor R K Mathur has inaugurated the first Solar Lift Irrigation Scheme of Kargil Renewable Energy Development Agency (KREDA) at Latoo Village.
▪ Latoo is the last Village on the LOC. The project is inspired by the Vision of Prime Minister Narendra Modi for solarising Ladakh as a model region by making it fully solarised and Carbon Neutral.
▪ In collaboration with Ladakh Autonomous Hill Development Council of Kargil and Kargil Renewable Energy Development Agency (KREDA) has successfully installed and Commissioned a 41 HP Submersible Pump backed with a 50Kw Solar Photovoltaic Plant making the first prototype of the Solar Lift Irrigation System in Ladakh.
'Aditya' – India's first solar-powered ferry
▪ India's first solar-powered ferry Aditya has won the prestigious Gustave Trouve Award for Excellence in Electric Boats and Boating.
▪ It is operating between Vaikkom and Thavanakkadavu in the Indian state of Kerala.
▪ The boat was inaugurated by Kerala Chief Minister Sri. Pinarayi Vijayan and Central Cabinet Minister for Power, Renewable Energy, Sri. Piyush Goyal.
▪ It is India's first solar-powered ferry and the largest solar-powered boat in India.
▪ The vessel was designed and built by NavAlt Solar and Electric Boats in Kochi, India.
▪ NavAlt is a joint venture firm between Navgathi Marine Design and Constructions, Alternative Energies] (France and EVE Systems (France).
Cochin – first solar-powered Airport
▪ Kerala's Cochin International Airport Ltd (CIAL) is the first airport in the world that would be running fully on solar power.
▪ To produce solar energy, Cochin International Airport Ltd transformed a patch of land previously reserved for cargo handling into a 12-megawatt solar plant.
▪ Forbes India reports that it's signed an agreement to lend technical assistance to three airports in Ghana that are planning to build solar plants of their own.
▪ More than 1,000 flights depart out of Cochin International Airport each week.
▪ Cochin International Airport Ltd (CIAL) is the 7th busiest airport in India, handling more than 10 million passengers every year.