Check out the Folk Dances of India State Wise List for upcoming competitive exams. For those preparing for competitive exams, it's crucial to know about the major folk dances in India. These dances represent the diverse cultures of the different states of India. While there are 8 classical dances in India, there are numerous types of folk dances. In this article, we have compiled a comprehensive list of folk dances in India state-wise. Additionally, we have included some previous years' multiple choice questions (MCQs) on the topic to help you prepare for your exams.
India's Dance Forms
• Classical and folk dance are the two most popular dance forms in India.
• The first formal mention of dance is found in Bharata's famous work Natyashastra.
• Bharata Muni describes dance as the 'complete art' encompassing within its scope all other forms of art – music, sculpture, poetry, and drama.
• Folk dance arose from the state's, ethnic, or geographic region's local tradition.
India's Folk Dances
• In India, folk dances showcase the culture and traditions of the group from which they came.
• Folk dances are typically performed at communal celebrations such as births, festivals, weddings , to celebrate a new season and other social occasions.
• In some Indian folk dances, men and women perform separately; in others, they dance together.
• In India, there are many different types of folk dances which is celebrated different states of India.
Major Folk dances in India
| State | Folk Dance |
| --- | --- |
| Andhra Pradesh | Vilasini Natyam, Bhamakalpam, Veeranatyam, Dappu, Tappeta Gullu, Lambadi, Dhimsa, Kolattam |
| Arunachal Pradesh | Buiya, Chalo, Wancho, Pasi Kongki, Ponung, Popir |
| Assam | Bihu, Bichhua, Natpuja, Maharas, Kaligopal, Bagurumba, Naga dance, Khel Gopal. |
| Bihar | Jata-Jatin, Bakho-Bakhain, Panwariya |
| Chhattisgarh | Gaur Maria, Panthi, Raut Nacha, Pandwani, Vedamati, Kapalik |
| Gujarat | Garba, Dandiya Raas, Tippani Juriun, Bhavai |
| Goa | Tarangamel, Koli, Dekhni, Fugdi, Shigmo, Ghode, Modni, Samayi nrutya, Jagar, Ranmale |
| Haryana | Jhumar, Phag, Daph, Dhamal, Loor, Gugga, Khor. |
| Himachal Pradesh | Jhora, Jhali, Chharhi, Dhaman, Chhapeli, Mahasu |
| Jammu & Kashmir | Rauf, Hikat, Mandjas, Kud Dandi Nach |
| Jharkhand | Alkap, Karma Munda, Agni, Jhumar, Janani Jhumar, Mardana Jhumar, Paika, Phagua |
| Karnataka | Yakshagana, Huttari, Suggi, Kunitha, Karga |
| Kerala | Ottam Thullal, Kaikottikali |
| Maharashtra | Lavani, Nakata, Koli, Lezim, Gafa, Dahikala Dasavtar |
| Madhya Pradesh | Jawara, Matki, Aada, Khada Nach, Phulpati, Grida Dance, Selalarki, Selabhadoni |
| Manipur | Dol Cholam, Thang Ta, Lai Haraoba, Pung Cholom |
| Meghalaya | Ka Shad Suk Mynsiem, Nongkrem, Laho |
| Mizoram | Cheraw Dance, Khuallam, Chailam, Sawlakin, Chawnglaizawn, Zangtalam |
| Nagaland | Rangma, Zeliang, Nsuirolians, Gethinglim |
| Odisha | Savari, Ghumara, Painka, Munari |
| Punjab | Bhangra, Giddha, Daff, Dhaman, Bhand |
| Rajasthan | Ghumar, Chakri, Ganagor, Jhulan Leela, Jhuma, Suisini, Ghapal |
| Sikkim | Chu Faat, Sikmari, Singhi Chaam or the Snow Lion, Yak Chaam, Denzong Gnenha, Tashi Yangku |
| Tamil Nadu | Kumi, Kolattam, Kavadi |
| Tripura | Hojagiri |
| Uttar Pradesh | Nautanki, Raslila, Kajri, Jhora, Chappeli |
| Uttarakhand | Garhwali, Kumayuni, Kajari, Jhora, Raslila |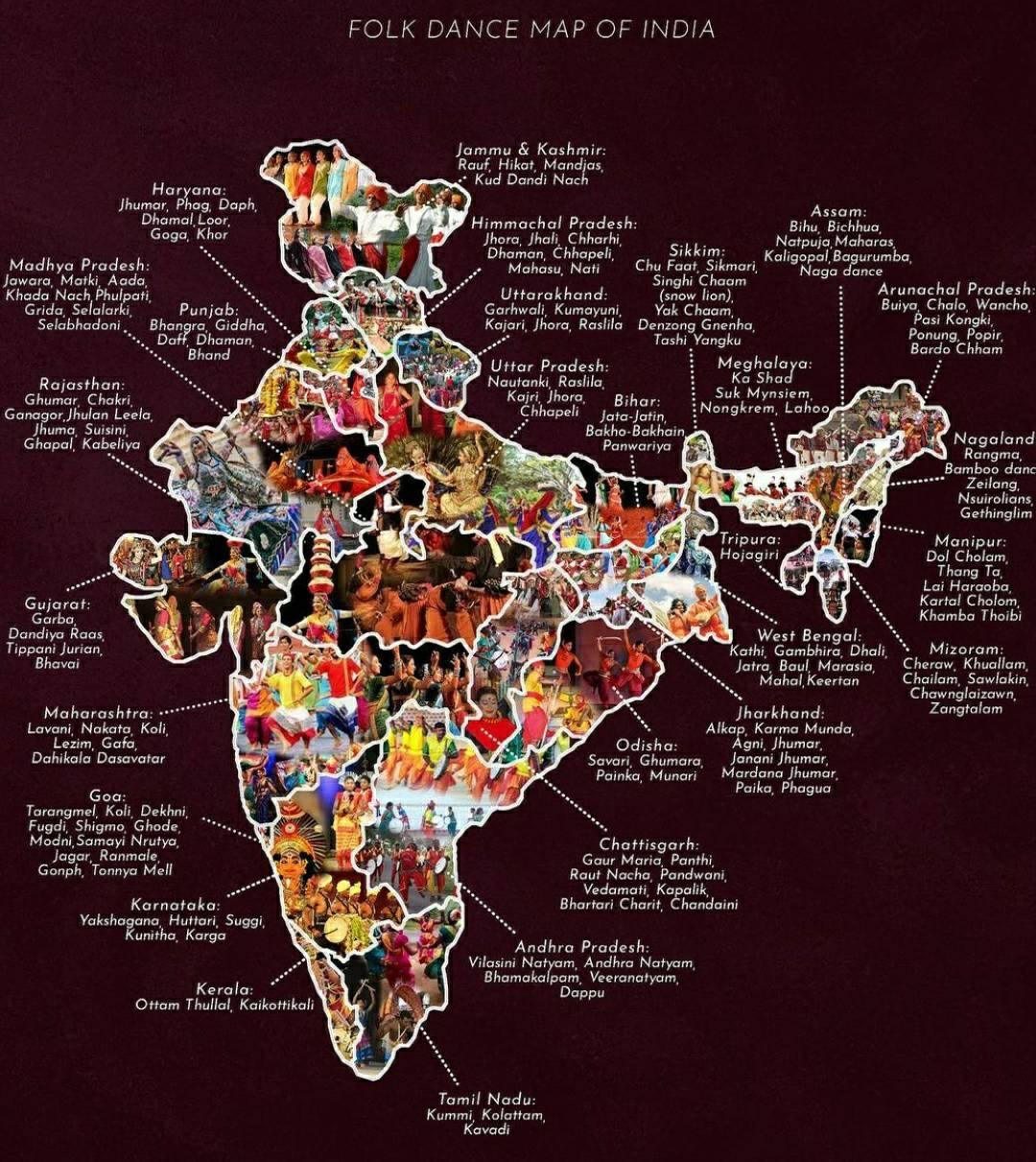 Most Important MCQs about Folk dances in India
1. Rouff is a folk dance. It has its origin in ?
A. Assam
B. Mizoram
C. Kashmir
D. Himachal Pradesh
Answer: Kashmir
2. Which of the following folk dances is performed by women in Punjab?
A. Garbha
B. Giddha
C. Ghero
D. Goncha
Answer: Giddha
3. Tamasha or Lalvani is the folk dance of which Indian State?
A. Maharashtra
B. Rajasthan
C. Assam
D. Madhya Pradesh
Answer: Maharashtra
4. Which is a post-harvest folk dance in Assam?
(SSC CGL Tier-I 2016 (2nd Sitting))
A. Ojapali
B. None of them
C. Ankia Nat
D. Bihu
Answer: Bihu
5. With which state is the folk dance 'Garba' associated ?
(SSC SAS 2010 (Paper-1) and SSC Tax Assistant
(Income Tax & Central Excise) 2009)
A. Rajasthan
B. Gujarat
C. Andhra Pradesh
D. Himachal Pradesh
Answer: B. Gujarat
6. Which of the following folk dances is associated with Rajasthan?
(SSC CGL Tier-I 2011, First Sitting)
A. Rauf
B. Jhora
C. Veedhi
D. Suisini
Answer: D. Suisini
Note: Ginad, Chakri, Gangore, Terahtaal, Khayal, Jhulan Leela, Jhuma, Suisini, etc are some of the Major folk dances of Rajasthan.
7. Which of the following folk dances is associated'with Jammu and Kashmir ?
(SSC CGL Tier-I 2011 (Second Sitting)
A. Jhora
B. Veedhi
C. Rauf
D. Suisini
Answer: C. Rauf
8. Of which of the following States is Nautanki, a folk dance?
(FCI Assistant Grade-II 2012 (Paper-1)
A. Haryana
B. Uttar Pradesh
C. Rajasthan
D. Gujarat
Answer: B.Uttar Pradesh
Note: Nautanki, Thora, Chappeli, Raslila, Kajri are some of the famous folk dances of Uttar Pradesh.
9. Which one of the following is wrongly paired ?
(SSC Graduate Level Tier-I 2013)
Folk Dance……. State
A. Kerala ………….. Karagam
B. Gujarat………….. Garba
C. Uttar Pradesh ….Nautanki
D. West Bengal …….Jatna
Answer: A.
Note: The Karagam Dance is s an ancient folk dance of Tamil Nadu performed in praise of the rain goddess Mariamman. The performers balance the water pot on their head very beautifully. This dance is considered to have been originated in Thanjavur.
10. Which among the following is a folk dance of India?
(SSC CGL Tier-I 2015 (Ist Sitting) and SSC CHSL, LDC, DEO 2015)
A. Mohiniattam
B. Kathakali
C. Manipuri
D. Garba
Answer: D. Garba
11. 'Tabal Chongli' is a form of folk dance associated with the State
of : (FCI Assistant Grade-III 2012 (Paper-1)
A. West Bengal
B. Assam
C. Andhra Pradesh
D. Maharashtra
Answer: B Assam
Note: Other popular dance forms of Assam are Bihu, Khel Gopal, Rash Lila, Canoe, etc.
12. 'Giddha' is a form of dance associated with the state of :
(SSC (10+2) Data Entry Operator & LCD 2011 (Ist Sitting) (North Zone) and SSC
Combined Matric Level (PRE) 2006 (Ist Sitting) (East Zone)
A. Punjab
B. Himachal Pradesh
C. Haryana
D. Rajasthan
Answer: A. Punjab
Note: Giddha is a popular folk dance of women in Punjab region of India and
Pakistan. The dance is often considered derived from the ancient dance known
as the ring dance.
13. "Dandia" is a popular dance of_?
(SSC Constable (GD) 2013, Ist Sitting)
A. Gujarat
B. Assam
C. Jharkhand
D. Maharashtra
Answer. A. Gujarat
Note: The dandiya is the chief folk dance of Gujarat, which is usually performed in groups, wherein young men and women dressed in colorful costumes, dance in circles with multi-hued sticks in their hands to the lively beat of drums. This dance is very popular during the Navratri season in October.