Delhi Witnesses Grand Inauguration of Shaheedi Park, the Nation's First Outdoor Museum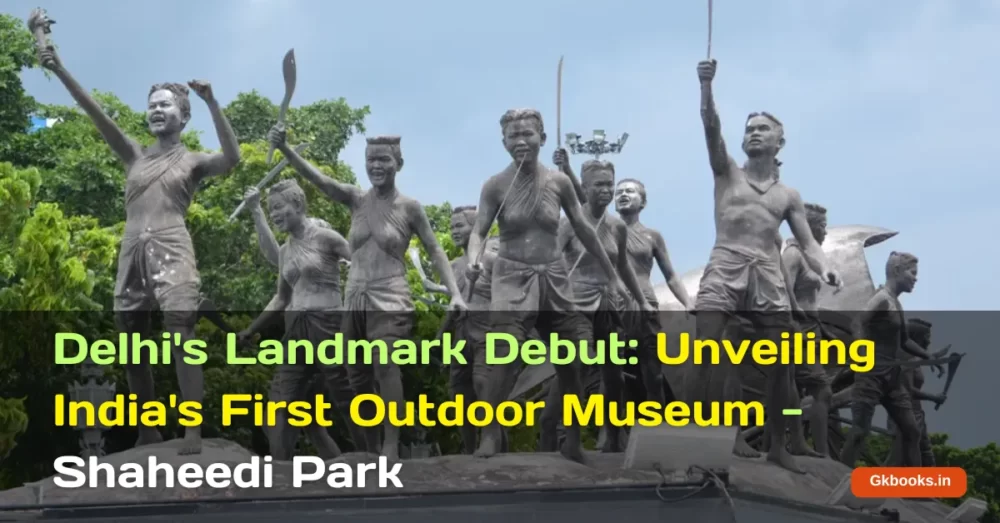 India's First Outdoor Museum
Delhi, a city steeped in history, has proudly unveiled its first-ever outdoor museum, Shaheedi Park. The inaugural ceremony, graced by Chief Minister Arvind Kejriwal and Lieutenant Governor VK Saxena, marked a significant milestone. Spanning over 4.5 acres, this captivating park is a creation of the Municipal Corporation of Delhi (MCD) and serves as a poignant tribute to India's national heroes.
Also See: Museum in News Latest Current Affairs
Reimagining History Through Innovative Artistry
Under the captivating theme of "Waste to Art," the park has come to life through the combined efforts of 10 skilled artists and a team of 700 artisans. Over the course of six months, this creative ensemble transformed a staggering 250 tonnes of scrap into captivating installations that narrate India's journey through time – from ancient to modern epochs.
A Vivid Tapestry of Heritage and Culture
Encompassing an expanse of 4.5 acres, Shaheedi Park weaves an intricate tapestry of India's cultural and historical richness. Throughout the park, striking motifs, sculptures, and monuments eloquently commemorate pivotal events and eras that have shaped the nation's destiny.
Read Also: LoC Landmark: India's First Post Office Inaugurated on LoC
A Sanctuary of Reflection and Reverence
Shaheedi Park emerges as a sanctuary for contemplation and reverence, inviting visitors to traverse India's heritage. The sculptures adorning the park's landscape serve as poignant storytellers, vividly recounting the diverse eras and cultures that define the nation.
Cultivating Beauty From Waste: A Sustainable Vision
Nestled within the ITO area, this remarkable park stands as a testament to the Waste to Art initiative led by the MCD. Ingenious installations, crafted from recycled materials such as electric poles, old vehicles, and scrap metals, offer a visual ode to India's illustrious past.
A Lush Oasis of Unity and Remembrance
The grandeur of Shaheedi Park extends beyond its artistic marvels. A landscape embellished with approximately 56,000 trees and shrubs, including champa, ficus, kachnar, and syngonium, celebrates the unity, diversity, and struggles that have defined the Indian nation.
An Accessible Retreat for Enthusiasts
Shaheedi Park beckons visitors to embark on a journey through time. For a nominal fee of INR 100 for adults and INR 50 for children, one gains access to this captivating realm. The convenience of online ticketing enhances the overall experience, ensuring easy entry for those eager to explore.
A Culinary and Keepsake Haven
To enhance the visitor experience, the park offers a delightful food kiosk and a charming souvenir shop. Within its premises, three galleries and nine sets house an impressive array of 2-D and 3-D sculptures, totaling 93 and 20 respectively.
Navigating Shaheedi Park
The entrance to this treasure trove is nestled along Bahadur Shah Zafar Marg, granting easy access to its wonders. Ample parking facilities are conveniently situated along the road, facing the historic Kotla Fort.
As reported, this captivating project has materialized at an estimated cost of nearly INR 15 crore. A testament to Delhi's commitment to preserving and presenting its vibrant history, Shaheedi Park stands as an iconic testament to India's valorous past and a beacon of inspiration for generations to come.
Key Notes
..................

▪ The Indian Museum in Kolkata is the oldest and Largest museum in India and the ninth oldest museum in the world. It was founded in 1814 by the Asiatic Society of Bengal.
More Current Affairs on National Affairs