Welcome to the world of chatbots and robots in news. In this era of rapid progress, chatbots and robots have emerged as not just mere tools, but as prominent players shaping the way we interact, communicate, and gather information. Join us as we delve into the captivating world of "Chatbots and Robots in News 2023," where we uncover the latest developments, trends, and transformative impacts of these cutting-edge technologies on the media, society, and beyond.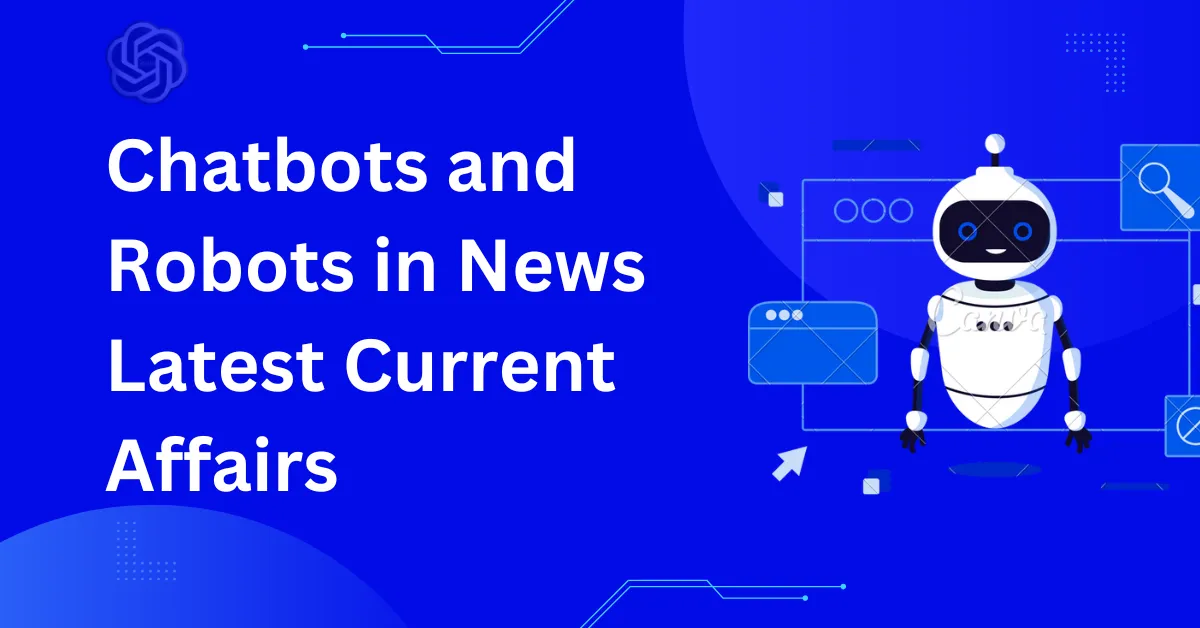 From AI-powered news assistants to autonomous reporting drones, this blog post ventures into the exciting intersections of technology and journalism, unraveling the dynamic role that chatbots and robots play in shaping our understanding of the world today.
Let's embark on this journey together, exploring the captivating stories and groundbreaking breakthroughs that define this remarkable year in the realm of AI-driven news and reporting.
Robotics or Robots in News 2023 [January – July]
▪ India's largest robotic manufacturing unit, "Bot-Verse," was inaugurated in Greater Noida.
▪ NASA is developing the snake-like robot Exobiology Extant Life Surveyor (EELS) for exploring Saturn's moon's surface.
▪ Telangana launches State Robotics Framework to create a sustainable robotics ecosystem. The framework was launched by IT and Industries Minister KT Rama Rao in Hyderabad.
▪ Kerala became the first state to use the robotic scavenger "Bandicoot" for cleaning manholes.
Saw 'Bandicoot' in action in Trivandrum today. This is a kind of work workers used to do manually. Workers frequently die in India due to inhalation of toxic gases in manholes. The Municipal Corporation of Trivandrum has been using this robot for the past 3 yrs, workers said. pic.twitter.com/OWh5SlROpC

— Subin Dennis (@subindennis) May 27, 2023
▪ Emirates unveiled the world's first robotic check-in assistant, named "Sara."
▪ Researchers from Switzerland developed an autonomous fish robot called "Belle." It enables conservationists to gain valuable insights into underwater ecosystems without disrupting marine life.
▪ A sniffing robot using locust antennae for disease diagnosis and security checks was developed in Israel.
Chatbot in News 2023 [January – July]
▪ Italy has recently banned the use of ChatGPT.
▪ Jammu and Kashmir launched India's first Tele-MANAS chatbot for mental health services.
▪ Madhya Pradesh introduced the AI chatbot "Just Ask/Khulke Poochho" in partnership with UNFPA (United Nations Population Fund ) to address the critical need for accurate and accessible information on social issues and sexual and reproductive health and rights (SRHR) among adolescents and young adults.
▪ Delhi's child rights commission launched a WhatsApp chatbot called "Bal Mitra" to make governance more effective for children by enabling two-way communication. The chatbot can be accessed by sending a WhatsApp message to the DCPCR Helpline number 9311551393. It can be used to register complaints, seek information on child rights, and track the status of complaints. The chatbot is also available in Hindi and English.
▪ Google introduced the AI chatbot "Bard" globally, including in India.
▪ Baidu (a Chinese multinational technology company)announced the launch of the AI chatbot "Ernie Bot" (Enhanced Representation through Knowledge Integration).
▪ Ministry of Electronics and Information Technology (Meity) initiated the Bhashini WhatsApp chatbot. Bhashini is a translation system that will connect Indians, who use local languages, with the internet.
▪ The Unique Identification Authority of India (UIDAI) launched the chatbot "Aadhaar Mitra." It has enhanced features like checking Aadhaar enrollment/update status & information on enrollment center location.
▪ India's first ChatGPT-powered AI chatbot is named "Lexi." The chatbot has been invented by the financial technology firm Velocity.
At Velocity, we're super excited to introduce you to Lexi – India's first AI-powered D2C #chatbot integrated with OpenAI's #ChatGPT.🤖

With its intelligent responses & user-friendly interface, Lexi has already ruffled some feathers in the eCommerce industry. Check it out! 👇 pic.twitter.com/QsyAo2R2SO

— Velocity⚡️ (@velocity_in) February 14, 2023
▪ Meta launched the new chatbot "LLaMA."
▪ "Artifact," an AI-powered personalized news feed app, was launched by Instagram co-founders.
▪ Anthropic introduced its AI chatbot "Claude."
▪ Punjab and Haryana High Court became the first in India to use Chat GPT for deciding bail plea.
▪ Sberbank unveiled its chatbot "GigaChat."
▪ Microsoft introduced "Jugalbandi," an AI chatbot for rural India.
---
More Latest Current Affairs