Indian Railways, like a giant web of train tracks and moving trains, has always been the heart of India's way of getting around. It's like a massive spider's web, linking big cities, far-off villages, and everything in the middle.
Every day, it takes millions of people and loads of stuff from one place to another. To make sure all of this runs smoothly, they came up with something called "railway zones." It's like dividing the railway into different parts, kind of like how you'd slice a big pizza.
Understanding the Indian Railway Zones
Imagine the Indian Railways as a captivating maze of tracks, where each path leads to a new adventure. It might seem overwhelming at first, especially if you're new to it.
But here's the exciting part: this vast rail network is like a treasure map divided into 19 distinct zones, each covering its own special piece of India.
These zones are like guardians of their regions, responsible for making sure the trains run smoothly, the stations are in top shape, and the passengers are well taken care of. It's a bit like having 19 mini-kingdoms, each with its unique charm, spread across the country.
The story of these railway zones goes back to 1951 when the first three zones were born. It was like magic being spread across the land to make sure the trains reached every corner.
As the nation grew and its needs changed, more zones were created, just like adding more colors to an already vibrant painting. Each zone is like a character in a great novel, showcasing the beauty of India's different landscapes, cultures, and languages.
So, when you hop on an Indian train, you're not just going on a journey; you're stepping into a world of stories, diversity, and adventure, all thanks to these amazing railway zones.
History of Indian Railway Zones
Picture this: India, freshly independent, was on the cusp of a grand adventure. But with its railways sprawling far and wide, it needed a plan. So, in 1951, something big happened.
The Indian Railways underwent a fantastic transformation, like a caterpillar turning into a butterfly. This transformation brought to life the first six railway zones (1951-52): Northern Railway, North Eastern Railway, Eastern Railway, Southern Railway, Central Railway, and Western Railway.
Here is a detailed timeline of Indian Railway Zones:
1951-52: The Birth of Six Zones
Northern Railway (NR)
North Eastern Railway (NER)
Eastern Railway (ER)
Southern Railway (SR)
Central Railway (CR)
Western Railway (WR)
This initial division aimed to decentralize decision-making, improve operational efficiency, and cater to the specific needs of different regions.
Each zone was responsible for overseeing train operations, infrastructure maintenance, and passenger services within its designated geographical area.
1952: Southern Railway Split
In 1952, the Southern Railway was further divided into two zones:
Southern Railway (SR)
South Central Railway (SCR)
This division was primarily driven by the need to better manage the vast and diverse network of the Southern Railway, which encompassed a significant portion of India's southern region.
1958: North Eastern Railway Restructured
In 1958, the North Eastern Railway was restructured, leading to the formation of two new zones:
North Eastern Railway (NER)
Northeast Frontier Railway (NFR)
1984: A Vision for Expansion
The Railway Reform Committee proposed the creation of four new zones to manage the burgeoning freight traffic and streamline operations. However, this proposal remained unrealized.
1990s: Efficiency Meets Politics
The 1990s witnessed renewed discussions on expanding railway zones to enhance administrative and operational efficiency. However, political considerations played a significant role in shaping the final proposals.
1996: Six Zones Proposed
During Ram Vilas Paswan's tenure as Railway Minister, six new zones were proposed and approved in principle:
East Coast Railway
East Central Railway
North Central Railway
North Western Railway
South Western Railway
West Central Railway.
Headquarters Controversies
The selection of headquarters for these zones was not without contention. Raipur and Bangalore were initially proposed as headquarters for East Coast Railway and South Western Railway, respectively, but were later replaced by Bhubaneshwar and Hubli (now Hubballi).
1998: South East Central Railway Joins the List
The South East Central Railway, with its headquarters at Bilaspur, was proposed in 1998 and received in-principle approval from the government in 1999.
2000-2002: A Period of Uncertainty
Progress on establishing the new zones remained slow, with limited administrative actions and even a temporary cancellation of staff appointments in 2000. The South Western Zone was inaugurated in 2002 but without proper office space or clear functions.
2002: Official Notifications and Zone Creation
A turning point came in June 2002 when official notifications were issued for the creation of 2 more railway Zones.
East Central
North Western Railway zones.
In July, five more zones were officially established:
East Coast
North Central
South Western
West Central
South East Central.
2003: New Zones Come into Effect
In April 2003, all newly created zones became fully operational, marking a significant milestone in the evolution of India's railway network.
2019: Latest Addition
The South Coast Railway Zone (SCoR) is the latest addition to India's railway network. It is headquartered in Visakhapatnam, Andhra Pradesh, and encompasses the existing Waltair, Vijayawada, Guntur, and Guntakal divisions.
The zone's jurisdiction extends across the states of Andhra Pradesh, Karnataka, Telangana, and a small portion of Tamil Nadu. The South Coast Railway Zone was officially formed on February 27, 2019.
Significance of Railway Zones: A Holistic Approach to Rail Management
The division of Indian Railways into zones isn't just about making the paperwork neat and tidy – it's like unleashing the magic of decentralized decision-making. It's like giving each zone its very own superhero cape to tackle local challenges head-on.
You know, like how a local guide knows all the hidden gems in their town. This way, everything runs smoother, and you, the passenger, get exactly what you need. It's like a tailor-made suit but for railway operations!
But that's not all. These zones are like chapters in a book, and each chapter tells a unique story. Imagine stepping into a different world with every new zone. The stations are like grand, ancient palaces in one and modern, sleek spaceships in another.
The trains wear coats of vibrant colors, and the staff greets you with warm smiles in various languages, making you feel like you're stepping into different dimensions on a single journey. It's like a treasure hunt where every stop has its own secret to share, making your train adventure a journey of cultural exploration.
India's railway network is one of the largest and most complex in the world, with 19 railway zones, each with its own set of divisions and headquarters.
Understanding the organization and structure of these railway zones is essential for train enthusiasts, competitive exam aspirants, and anyone who wants to navigate this complex system efficiently.
Read Also: List of Renamed Railway Stations in India
This blog post will provide you with a comprehensive guide to Indian railway zones and their headquarters, in a downloadable PDF format.
Why is this knowledge important?
Knowing about Indian railway zones and their headquarters is important for a number of reasons:
It helps you understand the organization and structure of the Indian Railways.
It helps you navigate the complex railway network more efficiently.
It is valuable knowledge for train enthusiasts and competitive exam aspirants.
It is part of general awareness and Railway General Knowledge.
About Indian Railways
▪ Indian Railways are a crucial mode of transportation for the common people in India, as it is the largest Departmental Undertaking in the country. It is a significant employer, with over 1.254 million employees, making it the world's eighth-largest employment generator, as per records from March 2020.
▪ It is also the biggest rail network in Asia and the fourth largest in the world, with a route of 67,368 km (41,861 mi) and 7,325 stations, spanning over 126,366 km (78,520 mi) of the track.
▪ Indian Railways operates in 19 zones across India, each of which is further divided into 70 divisions with their respective Divisional Headquarters.
▪ In this article, we will explore some interesting facts about the railway division in India, a list of railway zones in India, railway zones, and headquarters. This information is relevant from an examination perspective and can be helpful to anyone looking to gain knowledge about Indian Railways.
Read Also:  Longest Railway Platform in India 2023 [Latest Updates]
How Many Railway Zones in India?
▪ Currently There are a total of 19 zones (including Metro Railway, Kolkata) and 70 Divisions in the Indian Railway System.
▪ The entire operations of Indian Railways are divided into zones. Each zone is further divided into sub-divisions. Each Division has a divisional headquarters.
▪ South Coast Railway zone is the newest zone in India.
▪ Visakhapatnam is the regional headquarters of the South Coast Railway zone.
List of 19 Railway Zones in India and their Headquarters
Here is the updated list of railway zones in India presented in a tabular format with headquarters:
Sl.No
Railway Zone
Headquarters
Year of Establishment
States Covered
Number of Divisions
Railway Divisions
1.
Central Railway (C.R.)
Mumbai CSMT (Chatrapati Shivaji Terminus)
1951
Maharashtra, Madhya Pradesh
5
Mumbai, Bhusawal, Pune, Solapur, Nagpur CR
2.
Southern Railway (SR)
Chennai Central
1951
Tamil Nadu, Kerala, Andhra Pradesh, Karnataka, Puducherry
6
Chennai, Tiruchirappalli, Madurai, Palakkad, Salem, Thiruvananthapuram
3.
Northern Railway (N.R.)
New Delhi
1952
Delhi, Haryana, Himachal Pradesh, Jammu and Kashmir, Punjab, Uttar Pradesh, Uttarakhand
5
Delhi, Ambala, Firozpur, Lucknow NR, Moradabad
4.
Western Railway (WR)
Church Gate, Mumbai
1951
Gujarat, Maharashtra, Rajasthan, Madhya Pradesh
6
Mumbai WR, Ratlam, Ahmedabad, Rajkot, Bhavnagar, Vadodara
5.
Eastern Railway (ER)
Kolkata
1952
West Bengal, Jharkhand, Bihar
4
Howrah, Sealdah, Asansol, Malda
6.
South-Eastern Railway (SER)
Garden Reach, Kolkata
1955
West Bengal, Jharkhand, Odisha
4
Adra, Chakradharpur, Kharagpur, Ranchi
7.
Kolkata Metro Railway
Kolkata
2009
West Bengal
Not Applicable
8.
South-Central Railway (SCR)
Secunderabad
1966
Telangana, Andhra Pradesh, Maharashtra
3
Secunderabad, Hyderabad, Nanded
9.
North-East Frontier Railway (NEFR)
Maligaon (Guwahati)
1958
Assam, Arunachal Pradesh, Nagaland, Mizoram, Tripura, Manipur
5
Alipurduar, Katihar, Rangiya, Lumding, Tinsukia
10.
North-Eastern Railway (NER)
Gorakhpur
1952
Uttar Pradesh, Uttarakhand, Bihar, Jharkhand, West Bengal
3
Izzatnagar, Lucknow NER, Varanasi
11.
East-Central Railway (ECR)
Hazipur
1996
Bihar, Jharkhand, Uttar Pradesh
5
Danapur, Dhanbad, Pt Deen Dayal Upadhyaya, Samastipur, Sonpur
12.
North-Western Railway (NWR)
Jaipur
2002
Rajasthan, Haryana, Punjab, Gujarat
4
Jaipur, Ajmer, Bikaner, Jodhpur
13.
East-Coast Railway (ECoR)
Bhubaneswar
2003
Odisha, Andhra Pradesh
3
Khurda Road, Sambalpur, Rayagada
14.
North-Central Railway (NCR)
Prayagraj (Allahabad)
2003
Uttar Pradesh, Madhya Pradesh, Rajasthan, Haryana
3
Prayagraj, Agra, Jhansi
15.
South-Western Railway (SWR)
Hubli
2003
Karnataka, Goa
3
Hubballi, Bengaluru, Mysuru
16.
West-Central Railway (WCR)
Jabalpur
2003
Madhya Pradesh, Maharashtra, Rajasthan
3
Jabalpur, Bhopal, Kota
17.
South-East Central Railway (SECR)
Bilaspur
2003
Chhattisgarh, Odisha, Madhya Pradesh, Maharashtra
3
Bilaspur, Raipur, Nagpur SEC
18.
Southern Coast Railway (SCoR)
Visakhapatnam
2019
Andhra Pradesh, Odisha
4
Waltair, Vijayawada, Guntur, Guntakal
19.
Konkan Railway (KR)
Navi Mumbai
1998
Maharashtra, Goa, Karnataka
2
Karwar, Ratnagiri
19th Railway Zones in India
Konkan Railway is one of the 19 railway zones in India.
It is headquartered at CBD Belapur in Navi Mumbai, Maharashtra, India.
It was opened in 1998.
It connects the states of Maharashtra, Goa, and Karnataka.
It is 756.25 km (469.91 mi) long.
It has many innovations, such as anti-collision devices, the Sky Bus, and roll-on/roll-off.
Although the Konkan Railway is not typically regarded as a zone for operational purposes, it has the administrative status of an Indian Railways zone.
Read Also:  List of Railway Production Units in India
Facts about the Railway Zones in India
• Kolkata has the largest number of railway zones in India.
• Kolkata is the headquarters of the Eastern Zone, South Eastern Zone, and Metro Railway Zone Kolkata.
• Northern Railway Zone is the largest railway zone in India.
• Metro Railway, Kolkata became the 17th zone of the Indian Railways.
• Southern Railway zone is the oldest railway zone (created on 14 April 1951) in India.
• South Coast Railway Zone (18th) is the new railway zone of India.
Major Railway Connecting Projects
Golden Quadrilateral
The Golden Quadrilateral consists of routes connecting the four major metropolises in India, namely New Delhi, Mumbai, Chennai, and Kolkata. These routes form a quadrilateral shape along with its diagonals.
This network is incredibly vital in terms of both passenger and freight transportation, carrying over 50% of the total freight and 47% of the total passenger traffic, even though it makes up only about 16% of the total route length.
Golden Diagonal
The Golden Diagonal consists of routes connecting Mumbai and Chennai via Wadi, and Renigunta, and also routes connecting Mumbai and Howrah via Nagpur.
Dedicated Freight Corridor (DFC)
Imagine a network of railways dedicated solely to the movement of goods across India – a system that streamlines freight transportation, making it faster, more efficient, and less congested.
This is the vision behind the Dedicated Freight Corridors (DFCs), a transformative project that is revolutionizing India's cargo transport infrastructure.
The Dedicated Freight Corridor Corporation of India (DFCCIL) is the driving force behind this ambitious initiative. As the specialized entity responsible for planning, developing, and mobilizing financial resources, DFCCIL is overseeing the construction, maintenance, and operation of these dedicated freight corridors.
With broad gauge railway lines exclusively designed for freight trains, the DFCs are transforming the movement of goods across the country.
By separating freight traffic from passenger trains, these corridors will significantly reduce congestion, allowing for faster delivery times, improved efficiency, and enhanced passenger services.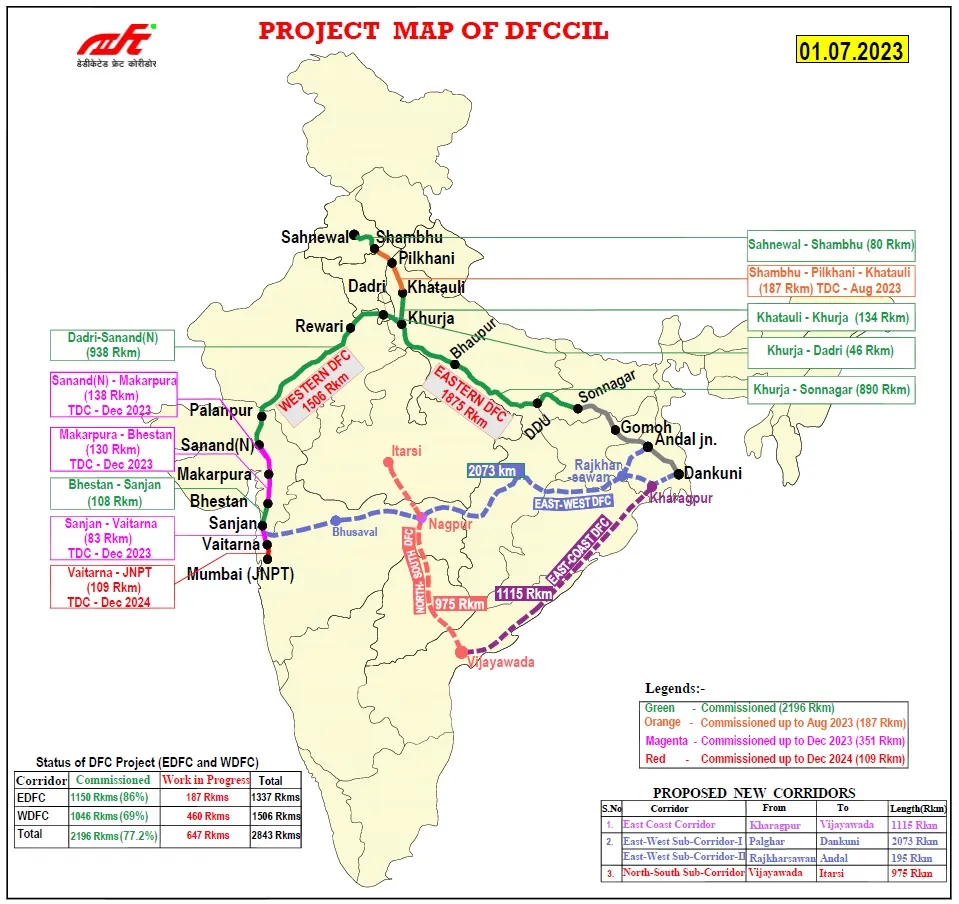 Unveiling India's Railway Expansion Projects in Key Regions
Assam Rail Link
The Assam Rail Link was initiated in 1947 and completed in 1949, with the aim of reconnecting Assam Railways with the rest of the Indian railway system.
This project was necessary due to the disconnection caused by the partition and the formation of (then) East Pakistan.
A 229km meter-gauge line was built within two years to reestablish this critical link.
The Assam Rail Link opened to passenger traffic on January 26, 1950, Republic Day.
To achieve this link, the Kishanganj branch of the Darjeeling Himalayan Railway was taken over and converted to a meter gauge, connecting it to the NER network at Barsoi.
The Teesta Valley Line was also taken over for meter gauge, but it was severely damaged by floods and had to be closed. The project included crossing the Teesta, Torsha, and Sankosh rivers.
Kashmir Rail Link
The ambitious Kashmir Rail Link project, also known as the Jammu Udhampur Srinagar Baramulla Railway Link (JUSBRL).
The sole purpose of the project is to connect the union territory of Kashmir or Kashmir Valley with the mainland rail network of India.
The overall project spans a challenging 356 km route.
Here we present a timeline of the key project:
1983: The dream of connecting Kashmir by rail takes root as construction commences, marking the beginning of a long and arduous journey.
2002: The project gains momentum as it receives the coveted status of a National Project, signaling the government's commitment to its completion.
2005: A significant breakthrough is achieved with the completion of the Jammu-Udhampur section, bringing rail connectivity closer to the Kashmir Valley.
2009: The Qazigund-Baramulla section, a 119 km stretch, is inaugurated, marking a crucial step towards integrating the valley with the rail network.
2014: The Udhampur-Katra section, a vital link in the project, is inaugurated, bringing the rail network closer to the revered Vaishno Devi shrine.
2022: The project encounters delays due to the challenging terrain and complex geology of the region, particularly the Katra-Qazigund section, which includes the construction of the world's tallest railway bridge over the Chenab River.
2023: Despite the challenges, the project continues to progress, with the completion of the iconic Chenab Bridge. A trial run is conducted, and an announcement is made that 95% of the work has been completed, instilling hope for the project's completion.
The Kashmir Rail Link project, once fully operational, will not only transform transportation in the region but also serve as a symbol of unity and progress, connecting the Kashmir Valley with the rest of India. While the completion date remains uncertain, the project's significance and potential impact are undeniable.
Most Important Questions about Railway Zones in India
Total Railway Zones in India 2023?
▪ Answer: 19 (As of 2023)
The total number of railway zones in India till 2023 is 19. These regions are divided into 70 divisions with respective divisional headquarters.
Which is the largest rail network in the world?
▪ Answer: United States
The United States has the biggest Rail network in the world followed by Russia, China, and India
When did the first Metro rail come into existence?
▪ Answer: 24 October 1924
The first metro rail in India began in Calcutta, West Bengal. It is known as the Calcutta Metro, now called the Kolkata Metro, and it commenced operations on October 24, 1984.
Who presented the first rail budget of Independent India?
▪ Answer: John Mathai
The first Railway budget for independent India was presented by John Mathai in November 1947. He was the second finance minister of India from 1949-51.
Which Railway Zone is the biggest in India?
▪ Answer: Northern Railway Zone
The Northern Railway Zone is the largest in India with 6968 km of route. The Northern Railway (NR) is headquartered at Baroda House in New Delhi, India. It is divided into five divisions, namely Delhi, Ambala, Firozpur, Lucknow NR, and Moradabad.
Who is the Head of Railway Divisions?
▪ Answer: Divisional Railway Manager (DRM)
The Railway division is headed by a Divisional Railway Manager (DRM) and he reports to the General Manager of that railway zone.
Management of Railway Zones in India
India's vast railway network is divided into zones, each overseeing a specific geographical area. Each zone is further subdivided into divisions, ensuring a well-organized and efficient management structure.
A General Manager (GM) is in charge of each zone, and a Divisional Railway Manager (DRM) leads each division.
The DRM's job is to make sure the division runs smoothly, and they get some help from one or two Additional Divisional Railway Managers (ADRM).
Many department heads, like those for engineering, mechanical, electrical, accounts, personnel, safety, and more, report to the DRM.
What's interesting is that the DRM can be picked from any of the eight organized services in Indian Railways.
They usually work for about three years, but this time can be longer if the Railway Board suggests it.
This structured way of managing things helps us run the railways well in different parts of the country.
Conclusion
Knowledge of Indian railway zones and their headquarters is important for upcoming competitive exams such as WBCS, SSC, UPSC, and State-Based Exams, as it is a part of general awareness and Railway General Knowledge.
This blog post has provided a list of the 19 railway zones in India and their headquarters, as well as a PDF download of the list. We hope this information is helpful for your exam preparations.
Frequently Asked Questions (FAQ)
Q1. Indian railway is divided into how many zones?
Answer: 19 (Including Konkan and Kolkata Metro Railway Zone)
Q2. Which is the oldest railway zone in India?
Q3. Which railway zone is the largest?
Answer: Northern Railways
Q4. Which state has the maximum railway zone?
Answer: Kolkata (3 Railway zones)
Q5. Which is the new railway zone in India?
Answer: South Coast Railway Zone
Indian Railway Zones And Their Headquarters PDF with Divisions: Download ink
PDF File Details

▪ File Name- Railway Zones in India PDF with  Headquarters and Divisions
▪ File Size - 158KB
▪ Quality - Good
▪ No. of Page - 5
▪ Category - General Knowledge
▪ Beneficiaries - Government Job Aspirants
---